Estimated read time: 2-3 minutes
This archived news story is available only for your personal, non-commercial use. Information in the story may be outdated or superseded by additional information. Reading or replaying the story in its archived form does not constitute a republication of the story.
Samantha Hayes reporting When you visit the doctor, you expect your insurance company will be billed correctly. But state investigators say that's not happening at many clinics in Utah.
In fact, illegal billing apparently is happening on purpose. And today, state investigators charged a Utah man with doing just that.
Craig Lynn Cutler is the owner of three local medical centers where he allegedly billed insurance companies on false claims, adding up to more than 300 thousand dollars.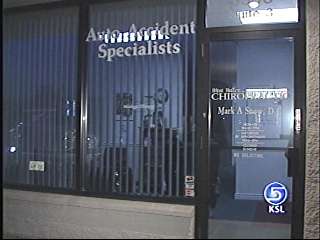 Dr. Mark Snow is taking over the West Valley Chiropractic Center from its current owner, Craig Lynn Cutler, who is now facing criminal charges for medical insurance fraud.
Dr. Mark Snow/ West Valley Chiropractic Center: "I was aware that he was being indicted or investigated for insurance fraud. However, I was assured that everything we were doing was above board."
The state Insurance Fraud Division says Cutler should never have been licensed to bill Medicare in the first place. That's why they've also charged him with communications fraud.
Joe Christensen/Insurance Fraud Department: "For failing to identify that he had a criminal history from California when he applied for his license in order to conduct Medicare with the federal government."
Eyewitness News tried to contact Craig Cutler at his Orem home, but he was unavailable.
Joe Christensen: "In this one case, Dr. Cutler has been charged with 300-thousand dollars of insurance fraud."
This kind of crime raises medical insurance premiums which are then passed on to you. And that's why state investigators are trying to crack down on this. They have many more cases to investigate.
Joe Christensen: "These investigations take a lot of time. We have several medical mills, multidisciplinary clinics we have investigated over the past year. We are very close to filing charges in three others also."
Court papers say Cutler also owns the West Valley Medical Center and the Jordan River Family Practice.
Update 08/22/2014: Charges against Craig Cutler were later expunged.
×