Estimated read time: 2-3 minutes
This archived news story is available only for your personal, non-commercial use. Information in the story may be outdated or superseded by additional information. Reading or replaying the story in its archived form does not constitute a republication of the story.
Samantha Hayes ReportingIt was a scary afternoon for students getting out at Copper Hills Elementary. A man blew through a school zone in a high speed chase that ended with his arrest in a Magna neighborhood.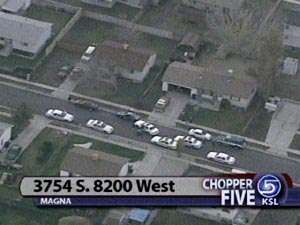 The pursuit ended in a Magna neighborhood where Chopper Five caught the arrest of 19-year old Jeffrey Berrett.
Roylance Renteria, Witness: "There was a police officer in front of my house yelling at the kid getting out of the vehicle, trying to run, and basically had to tackle him down to get him under control."
The chase beforehand was out of control. It started at Matheson Junior High at about 3:30. An off-duty Salt Lake County Sheriff's Deputy was about to pull out of the parking lot when a car sped by a 90 miles an hour. Berrett stopped and started in a sort of catch-me-if-can- pursuit.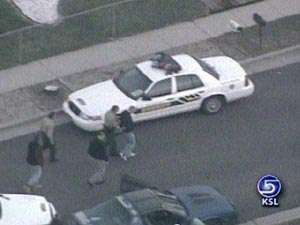 Sgt. Rosie Rivera, S.L. County Sheriff's Dept.: "Eventually the suspect did pull over near a crosswalk. Deputy got out of his vehicle, walked over to the suspect vehicle, and just as he was going to approach, the suspect vehicle took off through the crosswalk."
At that time children from Copper Hills Elementary School were about to cross.
Jaymen Cumberledge, Witness: "There was actually, she had the stop sign up and he went. I saw them kind of gathered up and scared."
The chase wound through several neighborhoods before the deputy pinned Berrett between his car and another, but that wasn't the end.
Roylance Renteria: "He had tried to get away again, backed up, thought he hit the police car. I do know he hit the neighbor's car."
Sgt. Rosie Rivera: "And at that point the deputy was able to exit his vehicle and take the suspect into custody."
Turns out the man was driving on a suspended license and was under the influence of marijuana. He is also charged with evading police and aggravated assault.
×
Most recent Utah stories