Estimated read time: Less than a minute
This archived news story is available only for your personal, non-commercial use. Information in the story may be outdated or superseded by additional information. Reading or replaying the story in its archived form does not constitute a republication of the story.
(KSL News) -- Firefighters were on the scene of a house fire in Sandy Tuesday night. A toaster apparently short-circuited, starting the fire.
Three kids were in the basement. One smelled smoke and ran upstairs to discover the fire. They tried to put it out with a fire extinguisher. When that didn't work, they ran to a neighbor's.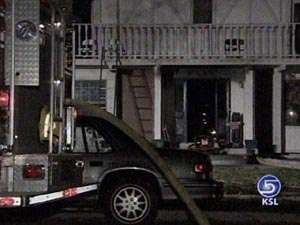 One boy called 9-1-1, but said the dispatcher thought it was a prank at first.
Travis Grote: "We're not lying! We're not lying! Our house is on fire. If you don't believe us, get over here!"
One person suffered smoke inhalation but is expected to be okay.
Ironically, this house is next door to the Ungricht home, where a garage fire killed Dr. Herbert Ungricht last May.
×