Estimated read time: 2-3 minutes
This archived news story is available only for your personal, non-commercial use. Information in the story may be outdated or superseded by additional information. Reading or replaying the story in its archived form does not constitute a republication of the story.
Carole Mikita Reporting"The Producers" is the biggest hit in Broadway history; now the touring company has come to Utah.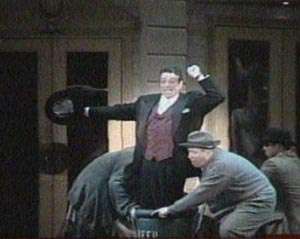 The show opened Tuesday night to a standing ovation. It is an outrageous romp through life in the theatre. You can see one of America's greatest comedic talents come to life in "The Producers", a new Mel Brooks musical.
Bob Amaral stars as Max Bialystock, the scheming failure who mistakenly lands a hit show. "The Producers" film won an Academy Award forty years ago but was not big at the box office. Today the musical is a must for millions.
Bob Amaral, 'The Producers': "I just think everybody needed a good laugh. I just think somebody needed a release. There's a lot of pent up tension and anxiety and who better than Mel Brooks to just kind of go 'Oh, have a good time'."
The true show-stopping number in the Broadway tradition features the accountant who wants more in life.
Andy Taylor, "The Producers" "It is a great story. It's a story, you've got an everyman, a guy who's just an average Joe who dreams of something else. And he actually gets to fulfill that fantasy."
And so do a lot of others. There are singing Nazis, and same sex partners. "The Producers" pushes the envelope, but the cast says it's supposed to. Mel Brooks called himself an equal opportunity offender.
Bob Amaral: "If you walk in and something we do up there offends you... If you have the slightest sense of humor, just take a breath and relax because eventually you're gonna be laughing at somebody else and realize that it was just a big joke."
"The Producers" has a two-week run in Salt Lake. There are tickets available still. Please be aware that this show is for mature audiences, containing many sexual innuendos and situations.
×
Most recent Utah stories