Estimated read time: 2-3 minutes
This archived news story is available only for your personal, non-commercial use. Information in the story may be outdated or superseded by additional information. Reading or replaying the story in its archived form does not constitute a republication of the story.
Samantha Hayes reporting Car accidents frequently make the news. When you add them all up, an astounding number of Utahns are involved in car crashes every year.
But are they more likely to happen in some intersections than others?
An Eyewitness News investigation found, they do.
We contacted nearly two dozen police agencies, looked at hundreds of accident reports and put them together, to identify the Wasatch Front's most dangerous intersections.
You've driven by something like this many times before: A fender bender. It happens quickly, and its cleaned quickly. Aside from a bruised bumper, everyone usually walks away just fine.
But every once in a while there's an accident like what happened just last weekend.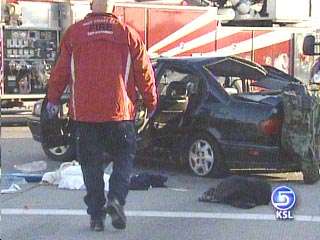 Dave Krommenhoek, Witness: "A lot of little girls had some very deep gashes and a lot of blood."
The crash happened on Bangerter Highway and 3100 South, an intersection with its fair share of accidents. The intersection has an average of 30 accidents a year. But that's not nearly as high as a few others we located.
Eyewitness News researched crash statistics from a variety of police departments for hundreds of intersections. We took numbers from 2003 and 2004 up to October.
Here are some intersections you're probably familiar with, which we found have many more accidents than the average.
7800 South and Bangerter had 89 crashes.
In South Jordan,
-Redwood Road and 104th South. 99 crashes in the 20-month period.
-Layton's Hillfield and Main - 101 crashes
In West Valley City 3500 South and 5600 West came in with 109 crashes.
90th South is a problem road in West Jordan. 86 crashes at the intersection with Bangerter and 160 at the intersection with Redwood.
Another pair in Midvale also top the list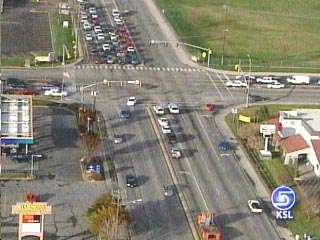 Intersections along 7200 South emerged as some of the most accident prone in the valley. At the intersection of 72nd South and State Street in the last two years: 125 accidents. Combined with Main Street intersection, there were nearly 230."
Sgt. Ken Jarvis, Midvale Police: "One of the problems we'll have is if there is a problem on the freeway, construction or closure..we'll get traffic that wants to go up and down on 72nd. It has to divert and then we have the 215 access just down the street here on State Street. The majority of crashes, people are rear-ending each other."
UDOT is also researching accident prone intersections, and will pay close attention to trouble spots in three locations on Redwood Road: 41st South, 54th South, and 47th south which has an average of 71 crashes a year.
But it's a balance between those areas, and the ones where severe injuries occur, like 45th South and State.
UDOT says there have been 11 serious injury accidents here and one fatality in 2003.
Robert Hull, Director of Traffic and Safety: "Sheer numbers say something, but also if you have a higher number of severe injury crashes and fatalities, its something we need to look at also."
×