Estimated read time: 2-3 minutes
This archived news story is available only for your personal, non-commercial use. Information in the story may be outdated or superseded by additional information. Reading or replaying the story in its archived form does not constitute a republication of the story.
Keith McCord reporting Well, it's "Rivalry Week." And that means it's time for students, fans, and boosters of BYU and Utah to show their true colors!
That also means there are a few pranksters out there.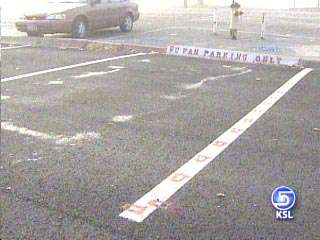 When Kevin Sederholm, the principal of Ogden's Pioneer Elementary School, pulled into his parking space a few days ago, he noticed that it had been tampered with!
The curb was painted; even the white stripes had been altered!
Sederholm is a long-time *BYU* fan! And he knows exactly who did this!
Kevin Sederholm, Principal & Cougar Fan: "So every year we've done different things to each other. And this year it's kind of escalated. Each year it seems to get a little bit bigger and a little bit bigger."
For 15-years or so, Sederholm, and 6th Grade Teacher Craig Jeffs-- who bleeds Ute red-- have played practical jokes on each other the week of the big game.
This morning, Sederholm decided to get even.
Kevin Sederholm, Principal & Cougar Fan: "He has an idea. He always knows I'm going to get him back, he just doesn't know when."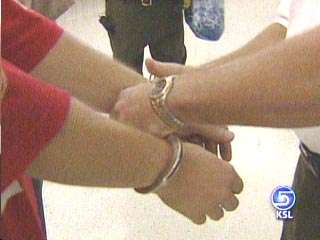 Principal Sederholm enlisted the help of several Weber County Sheriff's officers. They plotted their strategy in the office, just prior to an assembly!
Then, with hundreds of students watching, the cops barged in to the gymnasium!
"Is there a Craig Jeff's in the audience? Mr. Jeffs!"
Jeffs, decked out in his red Ute sweatshirt, was then handcuffed, forced to wear a BYU cap, sweatshirt, and had to sing the BYU fight song. We think he sang it poorly on purpose!
The delighted students came to Craig Jeffs rescue, when they took an oath agreeing to read more books during the second quarter.
Afterward, Craig Jeffs admitted that his long time friend "got him good"!
Craig Jeffs, 6th Grade Teacher & Ute Fan: "I did not have a clue. I was set up totally! "
For the next three days, Jeffs will wear the BYU shirt and hat; and Sederholm will reluctantly park in his defaced parking space.
I wonder what they'll come up with next year?!
Both men say are already thinking about next year's pranks, but they don't want to give it away!
×
Most recent Utah stories