Estimated read time: 2-3 minutes
This archived news story is available only for your personal, non-commercial use. Information in the story may be outdated or superseded by additional information. Reading or replaying the story in its archived form does not constitute a republication of the story.
Sammy Linebaugh reporting He stole the hearts of Utahns for 19 years, and tonight he will be honored once again. Number 12, John Stockton will have his jersey retired at the Jazz game tonight.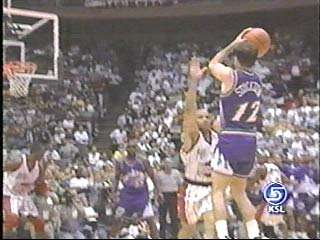 He gave fans nearly two decades of all-star action. He is the hero of perhaps the most memorable moment in Jazz history. We've heard it all before: "John Stockton sends the Utah Jazz to the NBA finals."
"Stockton dribble...fake, pass to Horny....sinks it..'out of the corner for three!!"
Greg Wrubell, KSL 1160 Sports Reporter: "I was in the arena in Houston, back in late may of 1997, the Jazz were playing game six of the conference finals with the Rockets."
"Passes back to Karl. Karl hits jumper"
Tom Wright/Jazz Fan: "They were on the road, we didn't want a game seven."
Greg Wrubell, KSL 1160 Sports Reporter: "The Jazz had trailed by a ton - down double digits in the 4th quarter, no shot..."
"Here come the Jazz!"
Greg Wrubell, KSL 1160 Sports Reporter: "It looked like it was going to a game seven. Houston had this game won!"
"Stockton passes. Hornacek makes the bucket…"
Frank Layden, Former Jazz Head Coach: "He wasn't about flashiness. It was about winning. It was always about winning."
"Stockton sinks three."
"Stockton on the move in the lane, tie game!"
Greg Wreubel: "They came back to tie the game, 2.8 seconds to go."
Brenda Deems, Jazz Fan: "It was like the last second, he took that shot."
Carrie Quintana, Jazz Fan: "At the buzzer he did the three point shot."
"Russell will inbound at half court. Uh oh. Stockton open, three...yeah. John Stockton sends the Utah Jazz to the NBA Finals!"
Tom Wright/Jazz Fan: "Everyone went nuts."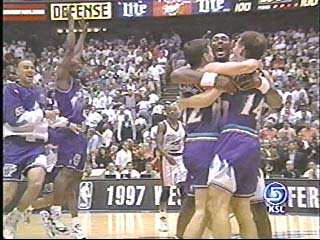 Amy Panhke, Jazz Fan: "We all ran outside and screamed as loud as we could."
Bruce Lindsay, KSL Anchor and Jazz Fan: "That was an exciting moment. I was home watching that and I got up and actually started to jump up and down. That doesn't happen very often."
Frank Layden: "This was a gift. This is a special player. He got his gifts from God and then he used them to the greatest of his ability. In terms of heart and commitment, he's the biggest there ever was."
Number 12 will be retired at halftime of tonight's Jazz Game against the Hornets. John Stockton will speak briefly to fans, and Jazz owner Larry Miller says he's asked if his kids can actually do the honors - pull the cord that raises his jersey to the rafters.
×