Estimated read time: 2-3 minutes
This archived news story is available only for your personal, non-commercial use. Information in the story may be outdated or superseded by additional information. Reading or replaying the story in its archived form does not constitute a republication of the story.
Sandra Yi ReportingMore people are expected to travel this week than any other holiday week since September 11th. And most of them plan to drive.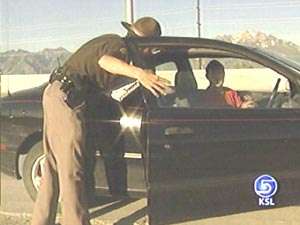 The 'Buckled or Busted' campaign kicked off today so the Utah Highway Patrol will be cracking down on people not wearing their seatbelts this weekend. For one woman, advocating seat belt use has become a personal mission.
Honeybee Brenchley: "I would follow Courtney out to the car. 'Slow down, buckle up and call me when you get home'. 'Ok', and he never did."
She says, that was a fatal choice. In August her 25-year old son was killed when he fell asleep at the wheel and lost control of his car.
Honeybee Brenchley: "Courtney was probably ejected the first or second roll."
Courtney died on the scene. He was not wearing his seat belt.
Honeybee Brenchley: "Knowing that he hurt and that I couldn't do anything, probably was the worst of all of it."
Brenchley hopes her story will click with drivers. Her message is timely; this morning the Department of Public Safety kicked off its 'Buckled or Busted' campaign. This week law enforcement officers will declare zero tolerance for people not wearing their seat belts.
Maj. Michael Kuehn, Utah Highway Patrol: "One person is enough to make a difference. We just want to see everybody make it to where they need to go, alive and safe."
Last year 309 people were killed on Utah's Highways. 113 were not buckled up. The Utah Highway Patrol estimates half of those victims would be alive today if they were wearing their seat belts.
Honeybee Brenchley: "You don't have a chance if you're absolutely not restrained at all."
Brenchley believes her son could have had a chance.
Honeybee Brenchley: "I just don't understand that he didn't realize his value, and that it only took buckling up. That was all, huh?"
The good news is more people are buckling up. The UHP says 85 percent of Utahns are wearing their seat belts. Troopers hope to get that number to 90 percent by next year.
×