Estimated read time: 2-3 minutes
This archived news story is available only for your personal, non-commercial use. Information in the story may be outdated or superseded by additional information. Reading or replaying the story in its archived form does not constitute a republication of the story.
Ed Yeates ReportingA three-year old boy who is only one of less than 200 in the world with a strange, rare disease is about to begin the first stage of a transplant that could save his life.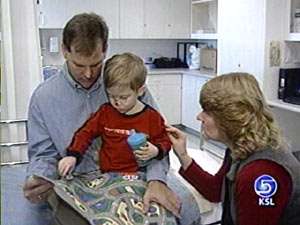 We first introduced you to Nicholas Ashby last week at his mountaintop home in Orofino, Idaho. Now he's here in Salt Lake, getting ready for a bone marrow transplant that's only been tried on a few kids with his condition.
Nick has what is called Congenital Erythropoietic Porphyria. According to medical literature, fewer than 200 in the world have it. As if the rarity of the condition is not enough, Nick has one of the more severe strains, complicated with anemia.
So his family knows the transplant here at Primary may be the only way to save his life. For now, there is only one donor.
Mary Ann Mattson, Nick's Mother: "But we have no other donor. There is no back up donor, so that part scares us the most because if he rejects, there is no backup donor."
As Nick nears the hour when the procedure begins, Mary Ann is feeling the stress of how much is riding on this cure. And if it works, it WILL be a cure.
Michael Pulsipher, M.D., PCMC Bone Marrow Transplant Program: "If you put in normal red cells with normal hemoglobin, they won't break down and you have a cure."
A cure for never being able to go out in the sun. At his home in Orofino, Nick can only go out at night; any sunlight on the skin burns instantly and deep. Hair is already starting to grow on his jaws and back - the body's natural and often misunderstood defense to protect people with this rare condition.
Robert Ashby, Nick's Birth Father: "Something has got to be done because this disease will hurt him. So for him to gain a healthy life for the rest of his life, this has got to be done."
Nick will get his transplant inside a room in the immuno-suppressant unit at Primary. Once in there, nobody will be admitted with an infectious disease.
Michael Pulsipher: "We have to give him antibiotics, anti-fungals, anti-virals. We watch him like a hawk."
Nick begins with nine days of chemo drugs to kill off all his old bone marrow cells. Then on December 7th, physicians will transplant the new donor cells. If all goes well, when Nick goes home in four to six months, there will be a celebration.
Mary Ann Mattson: "There are a lot of people out there that love this little guy. I know, I do. I can't picture my life without him, so he's got to be okay."
Dr. Michael Pulsipher says bone marrow transplants usually take within the first 100 days. The likelihood that it will be rejected after that is very low, less than one percent. So keep your fingers crossed.
×