Estimated read time: 2-3 minutes
This archived news story is available only for your personal, non-commercial use. Information in the story may be outdated or superseded by additional information. Reading or replaying the story in its archived form does not constitute a republication of the story.
Kimberly Houk ReportingDuring this Christmas season, we pause to appreciate things often taken for granted, for example our health.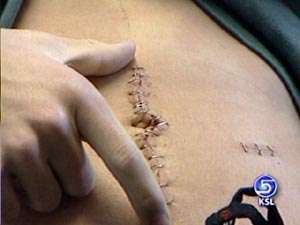 After months of watching a co-worker's health dramatically decline, one heroic local man stepped forward and gave his co-worker the ultimate gift --another chance at living a healthy life.
Bryan Ezola is getting used to walking the short distance down the hospital hallway from his room to his friend, Kerri Bland's room. It's been just four days since Ezola underwent a grueling four hour surgical procedure to give his best friend and co-worker another shot at a healthy life. And he has the scars to prove it.
For four months now Ezola has watched Bland struggle with failed kidneys.
Bryan Ezola, Kidney Donor: "Going to dialysis would make her so sick she would come home sick every night. And she would be to work late the next day because she felt so crappy. And I hated it, it just tore me apart to have to watch her."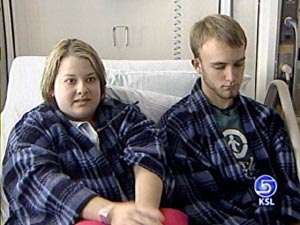 And he says he knew immediately he would be the donor. Three people tested, Bland's brother, cousin, and Ezola. Ezola was the perfect match.
Bryan Ezola: "I never really questioned it. It was just always, I'm going to give her my kidney."
Kerri Bland: "Just being willing to do that for someone else is just amazing."
Friends for only the past year and a half, Ezola says he immediately bonded with Bland the minute he met her at work.
Bryan Ezola: "She's just such a nice, amazing person. She's so caring and so generous and caring with everything."
The kind of girl who never puts herself first. But Ezola did, giving her an organ that immediately started working in her exhausted body.
Kerri Bland: "He will be my best friend forever."
Bryan Ezola: "I loved the chance that I had to be the one to save her."
About 100,000 people a year need organs, but there's only about 2,000 a year that get donated. Bland says she knows she's been blessed with a co-worker who cared enough to give her one of his."
Both patients are doing well. Ezola is looking forward to going on a church mission once he recovers.
×