Estimated read time: 2-3 minutes
This archived news story is available only for your personal, non-commercial use. Information in the story may be outdated or superseded by additional information. Reading or replaying the story in its archived form does not constitute a republication of the story.
Tom Kirkland reporting The courtship of Utah Football coach Urban Meyer is on.
Notre Dame's Athletic Director and incoming school President flew into Salt Lake City late this afternoon.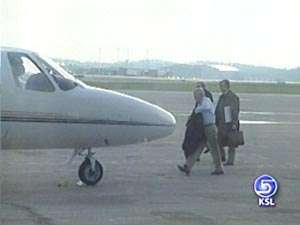 For the man named after a Pope, it would seem an offer to be the head football coach at Notre Dame, would be a dream come true. And today's high profile pursuit of Urban Meyer from the heartland to the Wasatch was like a Utah fairy tale.
The Notre Dame charter was.outbound from south bend at 1pm mountain time with Athletic director Kevin White and the Notre Dame president elect Father John Jenkins on board.
Meantime for the young urban legend, .it's business as usual: Running the Utes practice, and after, ducking all the key questions
Utah Urban Meyer, Negotiating with Notre Dame: " No comment… no comment...no comment."
Before practice Coach Meyer had plenty to say to his players about his future.
Utah Urban Meyer, Negotiating with Notre Dame: "I kinda felt like I"ve avoided a lot of things for a long time, I think they deserve to know what is going on, and I told them exactly what's going on, and I think they appreciate that."
Alex Smith, Ute QB: "He's had so much success, and he's such a great coach, who wouldn't be after him. You'd be crazy if you're not."
Just as practice was getting out, the Fighting Irish power was getting in. They were whisked cross town, under intense scrutiny from all angles, to the Grand America hotel to offer Urban Meyer the Notre Dame head coaching job
Utah Urban Meyer, Negotiating with Notre Dame "...If I remain at Utah, I will coach the bowl obviously, if something should change, I anticipate I will still coach this team in the bowl game..."
After a 2 1/2 hour evening meeting with Meyer, the Notre dame AD and president-elect flew out of town, and Urban Meyer drove home.
No practice for the Utes tomorrow, so Urban will have plenty of time to ponder the Notre Dame situation and perhaps make a decision, if he hasn't already.
And don't forget he may still meet with the Florida President andAD in the next couple of days.
×
Most recent Utah stories