Estimated read time: 1-2 minutes
This archived news story is available only for your personal, non-commercial use. Information in the story may be outdated or superseded by additional information. Reading or replaying the story in its archived form does not constitute a republication of the story.
Coco Warner Reporting'Tis the season of giving…and partying, which concerns the Utah Highway Patrol. So police hope a new breath alcohol test will make it easier for them to enforce DUI rules.
Last year Utah police made just over 14,000 arrests for drunken driving. But now they're hoping this new test will help them be more efficient against DUIs.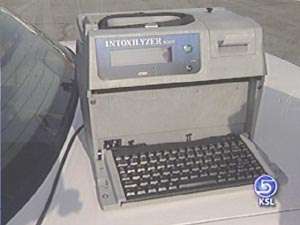 Sergeant Steve Winward with the Utah Highway patrol says a weaving vehicle is usually the first sign that the person behind the wheel is impaired. Once a driver is pulled over, officers look for other clues that they may be driving under the influence, and now officers can administer a breath alcohol test right from their own patrol car.
The new Intoxilyzer 8000 is different from its predecessors because it's portable and it produces results that are permissible in court. Its portability saves officers time out in the field. Before they would have to bring DUI suspects back to a police station to administer a breath test.
Sgt. Steven Winward, Utah Highway Patrol: "The instrument is ready to go; they can just take the test, they can just take them straight to the jail and then the officer can get back out on the road looking for another DUI."
So far Utah has 10 new intoxilyzer machines, six are in Salt Lake County. Sgt. Winward also says the new machines will be good for monitoring drinking among boaters.
×