Estimated read time: 2-3 minutes
This archived news story is available only for your personal, non-commercial use. Information in the story may be outdated or superseded by additional information. Reading or replaying the story in its archived form does not constitute a republication of the story.
SALT LAKE CITY -- A man broke into a Salt Lake City townhome this past weekend and stole college girls' lingerie. He also touched one of them while she pretended to sleep, and police haven't caught him yet.
The roommates who live in the home said the experience was creepy, to say the least. They can't believe someone would go through the trouble of breaking in just for underwear.
"I just woke up to somebody going through my closet. I could hear wicker baskets in my closet moving," Madeline Clawson said.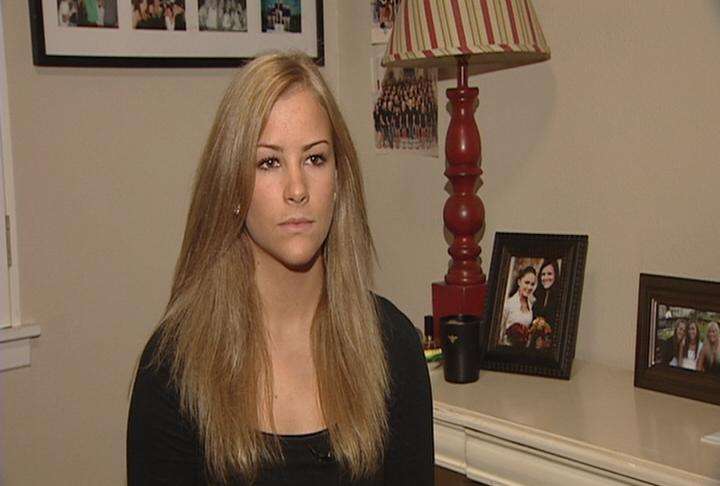 Clawson and her college roommates went to bed at 3:00 Saturday morning at their home near 1800 South Foothill Drive. Police said the intruder tried to get in through a window, but instead knocked the front door down around 4:30 a.m.
"He took a lot of our underwear, and he took some of my friend's nice jeans out of the dryer," Clawson said.
But the thief didn't stop there.
"He was at the bottom of my bed, laying on the floor, and then he would reach up through the sheets and touch my legs," Clawson said.
She moved her legs, pretending to just wake up, then he slowly crawled out of the room. Once Clawson thought he'd left, she woke up her roommate, Jayme Jensen.
"She was really calm, and she said, 'Sorry to wake you, but someone was in my room,'" Jensen said. "She said, 'They were touching my feet. I think someone's playing a prank on me.'"
Together, they went downstairs and saw the door hanging down. Jensen called her father, who called police.
When officers arrived, they searched the area and spotted the man leaving their next-door neighbor's house with a basket full of laundry. He left the underwear and swimming suits in the planter and ran out of sight.
Clawson said she hopes police catch him before he does it to someone else.
"I think he's a sick man for doing that, and it's wrong. And it really grosses me out," Clawson said.
Police didn't want to answer any questions until detectives get in Tuesday morning.
E-mail: ngonzales@ksl.com
×
Most recent Utah stories