Estimated read time: 2-3 minutes
This archived news story is available only for your personal, non-commercial use. Information in the story may be outdated or superseded by additional information. Reading or replaying the story in its archived form does not constitute a republication of the story.
CENTRAL UTAH -- Controversy is heating up again over a proposed dam in central Utah. The issue has pitted two counties against each other for the better part of a century, and now it has two members of Congress pushing in different directions.
Gooseberry Creek starts flowing in Sanpete County, but its waters flow downhill to Carbon County. In congressional terms, the water flows east from district three into district two. Third District Rep. Jason Chaffetz said he wants a dam to store water in wet periods and send it west in dry periods.
"If the good people of Sanpete are going to continue to be able to thrive and grow, they need to be able to access water. It's their lifeblood," Chaffetz explained.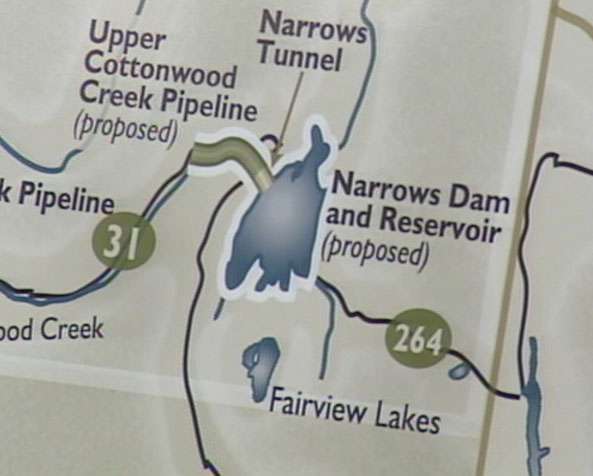 But 2nd District Rep. Jim Matheson said he has heard strong opposition from his constituents to the east in Carbon County.
"I want to make sure that if we're looking at this, we ought to look at all the alternatives and not just go full steam ahead with an idea that was thought up many decades ago," Matheson said.
The counties have been arguing about the dam since the 1940s. Now the federal Bureau of Reclamation is moving to complete a long-stalled environmental impact study. Matheson just sent a letter to the Secretary of Interior raising concerns.
"This is a very expensive project. The estimate back in the '90s was somewhere between $60 to $80 million dollars. Who knows how much it is now," Matheson said.
The bureau said its last cost estimate was $17 million; others have been much higher. Chaffetz argues it's worth the cost.
"It's an important concern, but I don't think you can necessarily quantify the long-term benefit that all of Utah is going to get from having this water," Chaffetz said.
Matheson claims Sanpete can get more water from other sources and through conservation practices such as reducing leakage from canals.
"Look, I'm not saying Sanpete shouldn't get its water. I'm saying let's look for the best way of going about doing it," Matheson said.
"[I'm] always open to alternatives," Chaffetz countered. "But I haven't seen anything viable."
Chaffetz said the fact that Matheson recognizes Sanpete's right to the water is a big step forward. He thinks they can settle their differences, but at the moment it looks like they have a long way to go.
E-mail: johllenhorst@ksl.com
×
Most recent Utah stories