Estimated read time: 2-3 minutes
This archived news story is available only for your personal, non-commercial use. Information in the story may be outdated or superseded by additional information. Reading or replaying the story in its archived form does not constitute a republication of the story.
Carole Mikita Reporting'I'll be home for Christmas, if only in my dreams' is what many servicemen and women will be saying this year. So a local production company is sending a taste of home to them.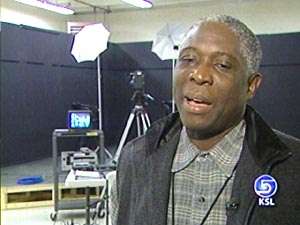 A little bit of Utah Christmas will make its way to our National Guard troops in Iraq, and those at International Media Services are including as many in the community as possible. The creative team at International Media Services is producing a television show called "A Utah Christmas for the Troops." Ozwald Balfour came up with the idea; he says it hit him suddenly.
Ozwald Balfour, International Media Services CEO & Pres.: "About two weeks ago, I think I was driving into the office and I don't know if there was a news item or something that I was listening to, but it just dawned on me that there was such an absence, such a void of anything like this."
So he and his team began capturing as many holiday events as possible including the lights on ceremonies on Temple Square and along Main Street, also at the Gallivan Center. They also attended the special community gathering on the First Night of Hanukkah, as the giant Menorah was lit Governor-elect Jon Huntsman, Jr. said Happy Holidays to the troops, as did Utahn John Price who is currently the Ambassador to the island of Mauritius.
It's important media services employees say so the soldiers know they are not forgotten.
Ozwald BalfourI: "I'm an immigrant to this country and freedom is extremely valued and, at least in my family, and this is a very special time of year and I would imagine that this is something that would mean a lot and say a lot to these men and women serving."
The Utah National Guard will deliver the DVDs to every Utah unit. If you have a video to donate or would like to participate, you have an event that happens in the next few days, there is a link to their web site at the top of this story.
×