Estimated read time: 2-3 minutes
This archived news story is available only for your personal, non-commercial use. Information in the story may be outdated or superseded by additional information. Reading or replaying the story in its archived form does not constitute a republication of the story.
Coco Warner ReportingThere are Christmas light displays and then there are CHRISTMAS LIGHT DISPLAYS. Marty Slack's home in Murray falls into the second category. He has taken his holiday light show to a whole different level.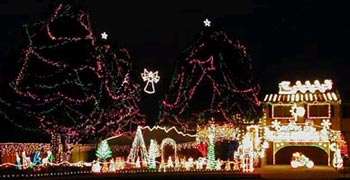 If you were feeling pretty good about hanging a few lights at your house this Christmas, imagine starting the process in September, after investing thousands of dollars. You'd basically be left with a home light display that encompasses so many different elements it's hard to capture them all. But owner Marty Slack says it's all worth it, just to see the look of amazement on visitors' faces.
Marty Slack: "My wife pays the electrical bills and she's always refused to tell me how much it costs."
Consider it her Christmas gift, although sacrificing her home and way of life for two months all in the name of holiday spirit may also be considered a gift. But Marty says his wife did get this hobby started.
Marty Slack: "My wife had to force me to put up a couple of lights after we moved in here and I really didn't like it, didn't enjoy it much. But it gets in your blood."
"In your blood" may be an understatement. Marty Slack has invested thousands of dollars and an incalculable amount of time into his Christmas light display. And it's something he thinks about all the time.
Marty Slack: "I work on this year round. In fact, I'm already planning things for next year."
And if the lights aren't enough, you can even tune in to 99.9 on the radio. It's Marty's own station that he's synchronized the lights to.
Marty Slack: "This is the first year with the radio station that I have. We've done music. Three years ago we started doing live music. I've got a couple different groups that I play in."
Live music, bubbles, a disco ball -- this display has something for everyone.
Marty Slack: "Anybody can learn to do this. The group that we have is called Planet Christmas. There's a forum on the internet where you can get ideas and talk to people."
And for information about directions and the hours Marty's display is on display click on the 'Christmas Utah' link at the top of this story.
×