Estimated read time: 2-3 minutes
This archived news story is available only for your personal, non-commercial use. Information in the story may be outdated or superseded by additional information. Reading or replaying the story in its archived form does not constitute a republication of the story.
PROVO, Utah (AP) -- Defensive coordinator Bronco Mendenhall was hired Monday as the head football coach at Brigham Young University, associated athletic director Tom Holmoe said.
"I'm ready to take this program to where it should be," Mendenhall said at a news conference.
Mendenhall, 38, replaces Gary Crowton, who stepped down two weeks ago after his third losing season.
Mendenhall and longtime BYU assistant Lance Reynolds, who has been interim coach since Crowton's resignation, were the in-house candidates to take over for Crowton.
BYU also interviewed Utah defensive coordinator Kyle Whittingham, but he declined to return to his alma mater and accepted an offer to take over as coach of the Utes.
Mendenhall was hired two years ago away from New Mexico. Crowton, who had Mendenhall on his Louisiana Tech staff, liked Mendenhall's intensity and wanted to bring him back to his native Utah. Mendenhall grew up in Alpine, about 15 miles north of Provo, and his father and brother played for BYU.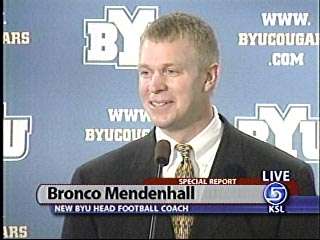 The Cougars' first year under Mendenhall was rough. Five opponents scored 33 or more points on BYU, including 58 by Colorado State and 50 by Boise State in a 4-8 season. But BYU did rank 14th nationally in total defense, holding opponents to 307 yards per game.
This season the averaged jumped to 377.2 yards per game, but the Cougars won more, going 5-6 thanks in part to the defense keeping BYU in some games.
When he announced his resignation, Crowton said it was time for new leadership after BYU went 14-21 over the last three, the school's worst three-year run since the early 1960s. BYU's three consecutive losing seasons are the first for the school since six in a row from 1959-64.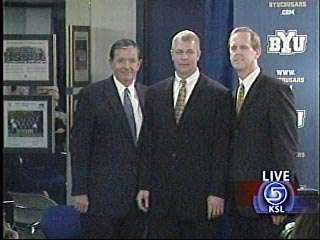 Crowton replaced LaVell Edwards after the 2000 season. Edwards turned BYU into one of the most successful and entertaining programs in the country before retiring after 29 years as Cougars coach. Crowton acknowledged when he resigned that following Edwards proved to be his biggest challenge at BYU.
(Copyright 2004 by The Associated Press. All Rights Reserved.)
×