Estimated read time: 2-3 minutes
This archived news story is available only for your personal, non-commercial use. Information in the story may be outdated or superseded by additional information. Reading or replaying the story in its archived form does not constitute a republication of the story.
Shelley Osterloh ReportingA Lehi teenager plans to grant the wish of a sick child by playing hopscotch for two days straight. The stunt is a tough one, but Cameron Rogowski says he'll do it for Make a Wish.
Every day 15-year old Cameron Rogowski works out at the pool or lifts weights, trying to build his strength and endurance so he can play hopscotch for 50 hours.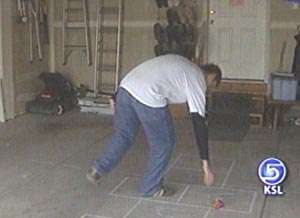 Cameron Rogowski: "You got to keep moving and keep on your feet for all 50 hours."
He has been gathering pledges from friends and neighbors, hoping to raise $5000 for Make A Wish. Last year he raised $2500 by spending 124 hours of his Christmas vacation swinging in his garage, enough to send a little girl with a life threatening illness to Disneyland.
Cameron Rogowski: "It's amazing because you feel like you were the one that helped them have their wish granted that they've been wanting their whole life. It's just an awesome feeling and there is nothing like it."
Cameron does get a bit of break; every half hour he gets five minutes off, really not much time in 50 hours. Still he knows it can be done --- his father did the same two stunts as a teenager to raise money for charity.
Duane Rogowski, Cameron's Father: "At least he's willing to give it a shot and he's doing something for kids that wouldn't be able to do it."
The whole family plans to help keep Cameron stay awake and hopping.
Lenis Rogowski, Cameron's Mother: "You want your children to learn to serve and do beyond even what they can imagine, the sky is the limit. They can do what they want and I think it's such a wonderful cause. It just touches your heart to have a son that will do that."
In the meantime, Cameron continues to prepare for the two day challenge.
Cameron Rogowski: "Just make sure to get every bit of sleep that I can get, and hope it adds up in time."
And he's hoping the pledges add up in time too. Cameron starts his hopscotch challenge December 27th.
If you'd like to help him out, we have link to Make a Wish at the top of this story.
×
Most recent Utah stories