Estimated read time: 2-3 minutes
This archived news story is available only for your personal, non-commercial use. Information in the story may be outdated or superseded by additional information. Reading or replaying the story in its archived form does not constitute a republication of the story.
Ed Yeates ReportingBefore Doplers and Vipers were around, people called storm spotters use to just go outside and report what was happening in their own backyards. Today the Weather Service had something special to say to two spotters in a small Utah town who are calling it quits.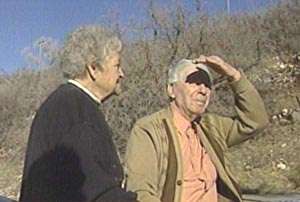 New generation high tech weather stuff does a pretty good job now of pinpointing storms - but forecasters still rely a lot on more than 400 spotters around the state who do their thing free of charge.
Vern Huff: "The weather is cool and sunny, very nice today, no wind, no rain, no nothing."
Vern Huff is 94-years old. For the past 30 years, seven days a week, 24 hours a day, he and his wife Ruth have been spotting storms in the small town of Woodland, Utah. With health problems now they're finally calling it quits, but not before the National Weather Service knocked on their door to say thanks.
Despite high tech, the Weather Service still needs first hand observers to translate computer data into real events.
Brian McInerney, National Weather Service: "We get a call from these two and tell us we have an inch and quarter of rain in the past thirty minutes. We have pea sized hail."
Out of the 430 storm spotters in Utah, Vern and Ruth are at the 7,000 thousand foot altitude mark where a lot of peculiar things can happen. And they have over the years.
Vern Huff, Storm Spotter: "We had one bad hail storm with hail stones about an inch in size or bigger. It was a terrible storm."
And how about a wind in January of 2000.
Ruth Huff, Storm Spotter: "And the wind took me down with the barrel on top of me and knocked me out."
Along with spotting storms, Vern now also sports a high school diploma he was awarded in May of this year at the age of 93.
Vern Huff: "I'm going to quit. I'm going to quit. But I've made my own rain gauge now and I've got a snow gauge, a new one all made. I'm going to put it out there and still watch it."
Once a storm spotter, always a storm spotter.
×