Estimated read time: 2-3 minutes
This archived news story is available only for your personal, non-commercial use. Information in the story may be outdated or superseded by additional information. Reading or replaying the story in its archived form does not constitute a republication of the story.
Amanda Butterfield reporting It was a deadly morning on the roads, as freezing temperatures and black ice took drivers by surprise.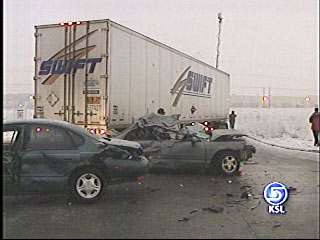 At least one person was killed and several others injured during this mornings commute.
One of the first accidents of the morning happened around 6 a.m. on 38th west, California Ave. Three cars were involved, one of them a semi.
The car involved is hardly recognizable, nothing but crunched metal and steel that came to rest under the back of the truck.
According to police, the driver of the semi was in the East bound lane, and made a left hand turn, right in front of a car headed West.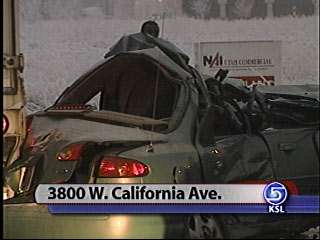 Lt. Rusty Isakson, Salt Lake City Police Dept.:"It appears the driver hit the brakes, probably spun out on the ice, and collided with trailer."
Trying to dodge the wreck, two other drivers slammed on their brakes and ran right into the first car.
Lt. Rusty Isakson, Salt Lake City Police Dept.: "We've gotta remember that the posted speed limits are only for regular dry conditions, if there are any conditions like fog, ice you need to slow down to an appropriate speed."
The driver of the first car was taken to LDS hospital hanging on for life. The other two drivers were taken to the hospital in stable condition.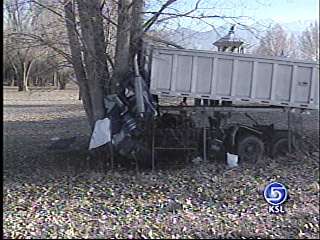 On I-15 near American Fork, the driver of a semi truck was killed when his truck crashed. Witnesses say the man driving the truck, 49-year old Gary Phillips, was headed north and simply went off the road,
Al Christianson, Utah Highway Patrol: "For whatever reason, he went off road, went through fence, and ran into a tree and stopped very short."
Phillips died instantly. Utah Highway Patrol is still investigating to see if he may have had a seizure.
In a third accident this morning, speed likely caused a car to roll over on I-215 and 2300 East. Traffic was reduced to a crawl.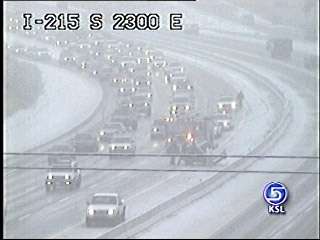 In both this accident, and the one along California Ave, officers caution that driving a little slower could have prevented the accidents.
Lt. Rusty Isakson, Salt Lake City Police Dept.: "Even if it was half the speed limit, it's still to fast for these conditions."
The woman taken to the hospital in critical condition from the California Ave. accident is in a coma, not making any improvements.
The morning commute was also messy in Ogden. Riverdale Road North Bound 1-15 was closed after six separate roll-overs. On some parts of the road, there was a quarter inch of ice.
Utah Highway Patrol says one of the reasons for the slick roads was from the nearby airport seeding.
×