Estimated read time: 1-2 minutes
This archived news story is available only for your personal, non-commercial use. Information in the story may be outdated or superseded by additional information. Reading or replaying the story in its archived form does not constitute a republication of the story.
Amanda Butterfield reporting Utah's new Governor had his first day of business today. Governor Jon Huntsman Jr. moved into his new office, and met with his senior staff for the first time.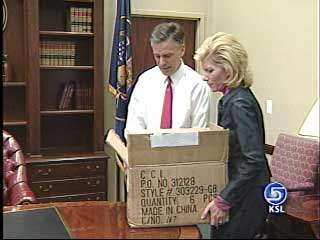 With the help of his wife, Huntsman unpacked boxes of personal items to put on his new desk. Some items included books, a flag, and pictures with his wife and kids, as well as pictures with him and the president.
He also brought a plaque he plans to hang on the wall. It's a popular Chinese phrase that he's altered a bit.
Governor Jon Huntsman Jr.: "We dropped the may, and left it can be done, there is a method, this to me represents the importance of changing, cultures, and difficulties, and here that's what we're embarking upon."
After some unpacking, Huntsman joined his senior staff, welcoming them for the first time. He told them he was happy they were willing to serve the state, asking them to be united in making the best choices for Utah.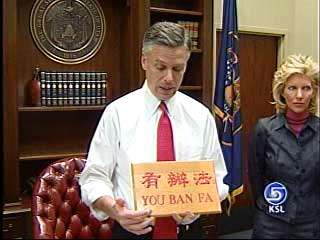 Former Governor Olene Walker left Huntsman a note in her old desk... On it was taped two four leaf clovers, wishing him luck.
We will have more on the governor's move, and his plans for the state coming up tonight on Eyewitness News at 5.
×
Most recent Utah stories