Estimated read time: 1-2 minutes
This archived news story is available only for your personal, non-commercial use. Information in the story may be outdated or superseded by additional information. Reading or replaying the story in its archived form does not constitute a republication of the story.
Richard Piatt ReportingGovernor Jon Huntsman is inviting the public to celebrate his first week in office. There is a free party to celebrate Huntsman's inauguration and Utah Statehood Day at the E Center tonight.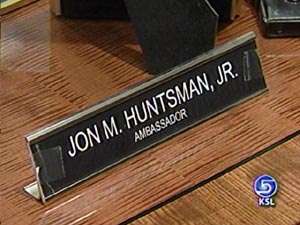 Governor Huntsman says it's a new day for Utah, and he's got a lot packed into this one. The Statehood Day celebration gets underway between 5:00 and 7:00 pm. But the Governor says he'll stay until he shakes every person's hand who wants to shake his.
It isn't as though the Governor and his staff don't have enough to do. This morning he officially moved into his office at the State Capitol. A lot of the decorations have personal meaning, right down to his nameplate from his days as an ambassador. 'Yo Baan Fa'---Chinese for 'It can be done' -- a symbol for the attitude he takes when it comes to making change.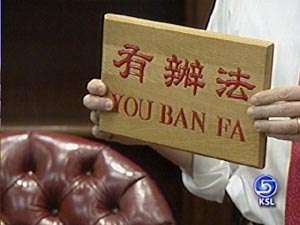 And then there are pictures: Family, friends, like Ronald Reagan, and Bono(of the band 'U-2'.) Huntsman like both the music and the lead singer's style.
Gov. Jon Huntsman Jr. "I'm a Bono fan in general because I see someone who has taken his renown in the rock world and parlayed that in to a recognition in a part of the world that needs a good deal of help. And I respect that."
Huntsman himself is rather accomplished in music, on the keyboards in particular. Years ago he played in a band called 'Wizard'. Now, he'll be spending more time in meetings. Huntsman still has to put together a budget and finalize a legislative agenda. But for now it's still celebration time at the E Center until seven o'clock.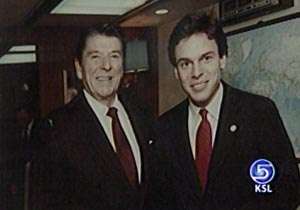 ×
Most recent Utah stories