Estimated read time: 2-3 minutes
This archived news story is available only for your personal, non-commercial use. Information in the story may be outdated or superseded by additional information. Reading or replaying the story in its archived form does not constitute a republication of the story.
Shelley Osterloh Reporting100 years ago today LDS Hospital opened its doors in Salt Lake City. That first year, the hospital treated about a thousand patients. Last year more than 330,000 patients were treated.
Staff, patients, and visitors were treated to anniversary cake as they entered LDS Hospital today. In 1905 a Salt Lake dentist, Dr. William H. Groves, planned to fund a new library, but community leaders told him a hospital was what Salt Lake needed.
That first year the hospital delivered 17 babies; now about 5,000 babies are delivered there annually. Little Joshua Jaggi was born at LDS Hospital yesterday, so was his Dad, Jeremy, years ago. He and wife Amy lost two other pregnancies and have been receiving special care for High Risk Mothers.
Amy Jaggi, New Mother: "We knew when we moved to Utah that we would be able to find the phenomenal care here at LDS Hospital, and working with Dr. Branch and the perinatology unit has been a dream come true for us. It's a miracle that we are at this point."
During the last century the hospital has pioneered new medical advancements in areas like cardiology, especially artificial heart assist devices.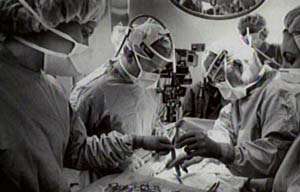 Mikelle Moore, LDS Hospital Administrator: "We developed the first shock trauma unit in the Intermountain West. We also developed a life-flight transport system, developed the first electronic medical record, and now have the most sophisticated medical record system in the country."
A luncheon honored many who contributed to the hospital's growth -- people like Dr. Homer Warner, who in the 60's was the first to develop computer programs for research and patient care.
Homer Warner, M.D.: "We really didn't intend to build a hospital information system, but it grew into that one project at a time."
And Dr. Terry Clemmer, who developed Life Flight and trauma care on site.
Terry Clemmer M.D.: "We have full time academic physicians, and tenured faculty at the university, and so we keep on the leading edge of just about everything that we do."
And while the hospital remembers its history, it continues to develop new medical advancements of the future and serve its patients one by one.
×
Most recent Utah stories