Estimated read time: 3-4 minutes
This archived news story is available only for your personal, non-commercial use. Information in the story may be outdated or superseded by additional information. Reading or replaying the story in its archived form does not constitute a republication of the story.
SALT LAKE CITY -- The H1N1 flu strain reached pandemic proportions last spring, but health officials say the worst is yet to come.
The Salt Lake Valley Health Department is urging people to prepare themselves. Health experts there said H1N1 is picking up steam, and it's going to hit hard. In fact, they said this flu season may be more severe than Utah has seen in many years.
The season is already in full swing, and Julie Konishi said she's a little nervous for her two little boys catching the flu.
"It has a few people that have had other illnesses have died from it, so It makes me a little bit concerned," Konishi said.
This year, there's an additional flu strain for her to worry about: H1N1.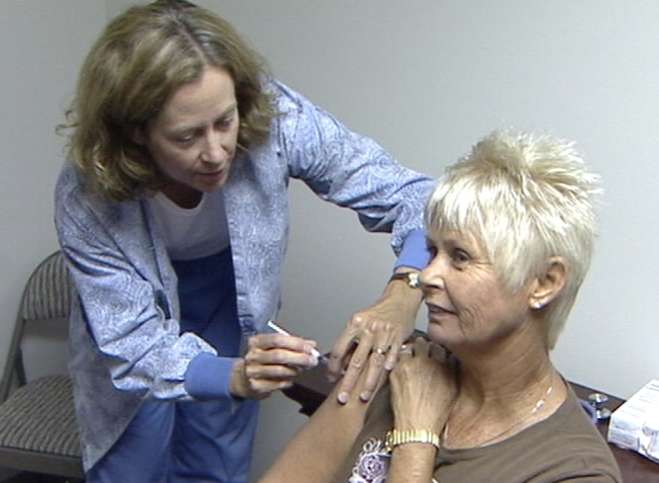 "We are ... expecting the majority of illness to occur in our younger population," said Dr. Dagmar Vitek, with the Salt Lake Valley Health Department.

Vitek said she predicts the H1N1 flu pandemic will strike close to 40 percent of the valley's population and will result in more than 100 deaths than in a typical flu season.

Vaccines are coming, and Dr. Vitek said she hopes the first round--a nasal version--will be in Utah around the beginning of November. But Vitek wants people to remember that the H1N1 vaccine isn't the only one you need; you should still get a seasonal flu shot.

"We do not want people to get infected with both strains at the same time," Vitek said. "If you get seasonal influenza and novel influenza (H1N1) in your body, they can combine and possibly create a more viral strain. And we're trying to prevent that."

**Priority groups to receive the H1N1 vaccine**

• Pregnant women • People who live with or care for children younger than 6 months of age • Healthcare and emergency services personnel • People 6 months through 24 years of age • People ages 25 through 64 years with chronic health disorders such as asthma, chronic obstructive pulmonary disease (COPD), diabetes, chronic cardiovascular disease and those with compromised immune systems. - *Salt Lake Valley Health Department*

Vitek expects H1N1 cases to peak sometime in October, decline in November and continue through the winter. Because the peak is expected before vaccines are available, Vitek says your best defense comes from covering coughs, staying home if you're sick and frequent hand washing. It's advice is something Konishi is already teaching her kids.

"They've actually done really well, and even the little one knows when we get the hand sanitizer out what to do with it," Konishi said.

With H1N1 vaccine not expected until late October or early November and a limited initial supply, residents should know that not everyone will receive a vaccination. Priority for the first round of H1N1 vaccine will be given to children, the elderly and pregnant women.

E-mail: jstagg@ksl.com

×
Related links
Most recent Utah stories