Estimated read time: 3-4 minutes
This archived news story is available only for your personal, non-commercial use. Information in the story may be outdated or superseded by additional information. Reading or replaying the story in its archived form does not constitute a republication of the story.
Kim Johnson reporting From the state mental hospital, to the work place, to higher education. A program at Valley Mental Health is providing a bridge, which is literally changing lives.
The program at Valley Mental Health was recognized by the state last year as one of the most innovative mental health programs. It's called CCEP, Community computer education program.
It provides mentally ill clients education and training that is enabling them to be productive members of society again.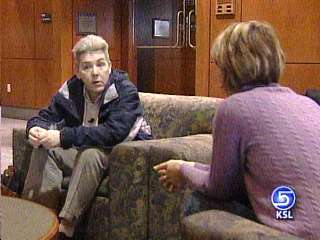 Joseph Lindsey hopes to graduate from the University of Utah someday with a degree in chemical engineering. A lofty goal for a man who's been in and out of the state psychiatric hospital.
Joseph Lindsey, Graduate of CCEP: "I didn't think I'd ever work or go to school again, I mean that's what they were telling me.:
After his last release from the hospital, Joseph enrolled in Valley Mental Health's Community computer education program.
His instructor says at first, Joseph would not speak in class.
Rob Ferris, Instructor: "If you spoke to him he'd jump out of his skin. By the end of class, nine months later, not only was he sharing in class his own experiences, he got up and spoke at graduation which I thought was pretty awesome."
Joseph found what many of his fellow students were also discovering -- that the social setting of the classroom was instilling self-confidence.
Joseph Lindsey, Graduate of CCEP: "I was in class every day. I was going every day, I'm studying, I'm learning, getting back into the swing, which gave me the stepping board to go back to the university."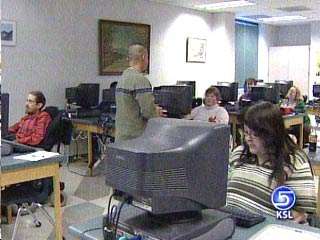 Jeremy Christensen came up with the idea of providing computer education for the severely mentally ill, people once considered unemployable. He hired Rob Ferris to design the curriculum. Both say the students picked up the material quickly....too quickly.
Jeremy Christensen, Program Coordinator, Valley Mental Health: "People with severe mental illness tend to relate to a computer very well, and we had to write curriculum faster than we thought we would."
Ferris discovered his students quickly picked up Microsoft word, Excel, Access, Powerpoint, Adobe Photoshop, the internet, and basic repairs.
Christensen says the students have far exceeded his expectations, both in class, and after graduation.
Jeremy Christensen, Program Coordinator, Valley Mental Health: "We were surprised how quickly they jumped into school, started setting up planning afterward, increased their work hours, and got jobs."
Melynn Taylor, Aid & former student: "Any resume is going to look good with all those skills on it and it's not as intimidating and I don't feel I'm not going to get the job. I feel yeah, I'm qualified, and I will get the job."
Melynne Taylor graduated from the program last November. She's now helping other students succeed in a program that's now in demand across the country.
Jeremy Christensen, Program Coordinator, Valley Mental Health: "We've been asked to present it nationwide and statewide, and people come up and ask how they can replicate it."
And there's a significant social benefit to this program. Since it began, the treatment costs -- mostly taxpayer money -- for these clients have been cut in half.
×
Most recent Utah stories