Estimated read time: 6-7 minutes

This archived news story is available only for your personal, non-commercial use. Information in the story may be outdated or superseded by additional information. Reading or replaying the story in its archived form does not constitute a republication of the story.

For the first time since September 2008, the University of Utah football team is not in the Top 25 rankings. Utah also no longer holds the longest winning streak in the nation. Last Saturday's game at Oregon brought forth evidence that Utah has some work to do to become a serious contender in the Mountain West Conference Championship race.

About the Utes

Although Utah did not play well in any phase of the game, the Utes still had a chance to win, which is a credit to their overall talent on the field. This week the Utes play Louisville, which is another program from a BCS conference. Both teams are unranked and are coming off a loss. The game is Saturday at 5:30 pm in Rice-Eccles Stadium.

Utah Head Coach Kyle Whittingham pointed out in his weekly press conference that his Utes "did not play particularly well in any phase of the game." Again, there were bright spots in every phase, but in order to beat teams like Oregon and Louisville, Utah needs to play a cleaner game. Utah can win games against Utah State and San Jose State playing sloppy, but can't against Oregon, and if the Utes cannot get some of their problems ironed out, they will lose to Louisville.

![](http://media.bonnint.net/slc/250/25021/2502141.jpg)![](http://ksl.com/emedia/slc/20/2002/200252.gif)**Week 4 Game Notes** Utah (2-1, 0-0 MWC) vs Louisville (1-1, 0-0 Big East) **Date:** Saturday, Sept. 26 **Time:** 5:30 pm (MT) **Site:** Salt Lake City (Rice-Eccles Stadium/45,017) **TV:** CBS C-HD **Radio:** KALL 700 Sports Radio **Series Record:** Utah leads 3-0 **Last Meeting:** 2007 (Utah 44, Louisville 35) **Kickoff Weather:** Sunny, Temps: near 80

Terrance Cain looks to be evolving into a fine quarterback. Playing in his second road game of the season and having it be at Autzen Stadium was a difficult break, but better to get thrown into the fire now rather than later. One bright spot seemed to be that he settled down in the second quarter. He went through a very difficult stretch in the first and second quarters until the defense game him a short field. Cain called his own number and scrambled up the middle and scored. The game started to slow down for him, but he needs to become more and more of a leader.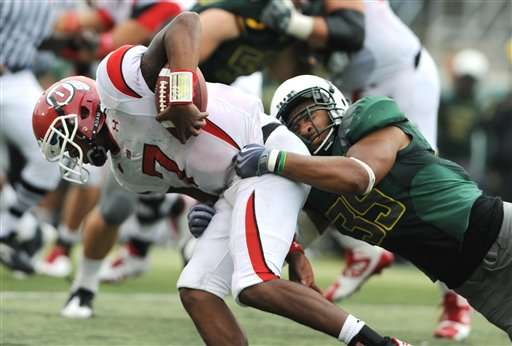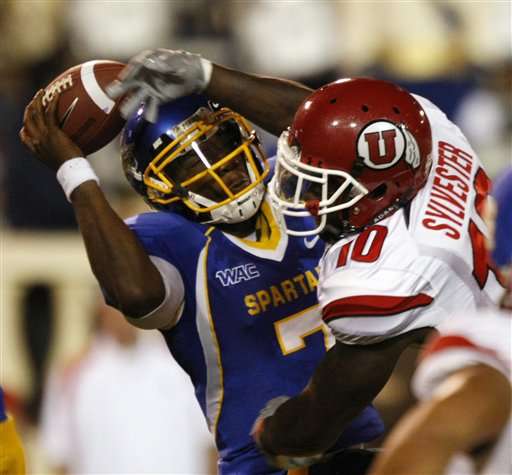 The defense has also had many bright spots, one of which has to be the opposing teams 3rd down conversion rate. In three games the Utes have held opponents to a combined 6-38 (0-12 USU, 3-12 SJSU, and 3-14 Oregon). The Utes D is killing drives at an almost 85% rate! That is spectacular. Most of the time the defense is getting off the field. In the Oregon game, the offense went three and out 10 times, so they gave it right back.
What is comforting to know is it takes Utah a few games to put the whole package together. Even last in 2008, it wasn't until week 8 against Colorado State when Utah played a complete game.
Utah
Louisville
Edge
Passing Offense

\#44 NCAA 237.3 YPG

\#38 NCAA 244.0 YPG

EVEN

Rushing Offense

\#30 NCAA 201.0 YPG

\#59 NCAA 154.5 YPG

![](http://www.ksl.com/images/team_logo/ncaa/utah.png)

Total Offense

\#29 NCAA 438.3 YPG

\#45 NCAA 398.5 YPG

![](http://www.ksl.com/images/team_logo/ncaa/utah.png)

Scoring Offense

\#58 NCAA 27.7 PPG

\#52 NCAA 28.5 YPG

EVEN

Rush Defense

\#78 NCAA 153.3 YPG

\#30 NCAA 93.5 YPG

![](http://www.ksl.com/images/team_logo/ncaa/louisville.png)

Pass Defense

\#17 NCAA 152.7 YPG

\#12 NCAA 130.0 YPG

EVEN

Total Defense

\#37 NCAA 306.0 YPG

\#10 NCAA 223.5 YPG

![](http://www.ksl.com/images/team_logo/ncaa/louisville.png)

Scoring Defense

\#51 NCAA 20.7 PPG

\#50 NCAA 20.5 PPG

EVEN

Special Teams

Strength- - - - - -

Punt Returns
#41 NCAA

Strength- - - - - -

Kickoff Returns
#8 NCAA

-
About the Cardinals
Louisville comes into this week having lost a heartbreaker to bitter rival Kentucky 31-27. Louisville is now 1-1 overall having had a bye in week two. Louisville employs Utah's Head Coach Kyle Whittingham's good childhood friend Steve Kragthorpe. Kyle and Steve's fathers coached at BYU in the late 70's. In listening to the Cardinals weekly press conference, Kragthorpe was well aware of what Utah has done since Whittingham has taken over as coach of the Utes. He has a high respect for Kyle and expects a tough battle come Saturday evening.
Louisville tries to keep a balanced attack on offense as opposed to what Oregon did against Utah last week. The Cardinals ran the ball 40 times and gained 133 yards on the ground. They threw the ball 29 times and gained 245 yards and scored 2 touchdowns off the pass. This will be a much tougher week for Utah's secondary as any other week this season so far. Louisville will throw the ball around.
Wrap up
With both teams coming off losses, this will be a game of resolve. Louisville had an extremely emotional loss against Kentucky and Utah had their 16 game winning streak snapped at the hand of Oregon. Look for Utah to get back to basics this week and try to become more physical at the line of scrimmage. Utah has been unhappy with their push off the snap, especially on offense. There is no more reason for the Utes to feel entitled to a win. A loss is never good, but to give many of the players a new perspective on how much it means to win a game is huge. These wins do not come unless the effort and focus is there, look for Utah to renew their effort, focus and communication. The Utes will also be looking forward to playing in Rice-Eccles again, where they are 20-5 under Coach Whittingham.
×
Most recent Utah stories