Estimated read time: 2-3 minutes
This archived news story is available only for your personal, non-commercial use. Information in the story may be outdated or superseded by additional information. Reading or replaying the story in its archived form does not constitute a republication of the story.
Tonya Papanikolas ReportingThe family of a Utah teen who died in the tsunami is back in the United States now. They arrived over the weekend and spent this afternoon telling their story to reporters.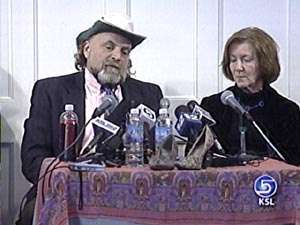 The family had actually planned to leave their beach site in Thailand later that day. But instead they got caught in the tsunami's destruction in one of the hardest hit areas of the country. The family hopes that by telling their story today, they won't have to keep reliving it.
Jai says he tried to look back at the bungalow, but he never saw Kali again. 15-year-old Kali Breisch's shoes turned up after the tsunami. But so far her family has not been able to locate her.
Stu Breisch, Kali's Father: "We still have not found Kali's physical body. We will find it."
The family did locate Kali's picture at a makeshift morgue, but in the confusion, the body had been misplaced. So officials continue looking.
Stu Breisch: "I dearly miss my daughter. I would give anything to have Kali back. And yet, I trust that there's some reason that this happened to us."
The morning of the tsunami, Stu, his girlfriend Sally Nelson, and his oldest daughter Shonti went scuba diving. Because they were far enough out in the water, they were safe during the tidal waves. But once they reached land, the two adults were separated from all of the teens.
Sally Nelson: "We didn't know where they were except that we knew that Shonti was okay."
Meanwhile, Kali and Jai Breisch had stayed behind at their bungalow where Kali woke up Jai around 10:30.
JaiRam Breisch, Caught in Tsunami: "I saw this wave coming that was two, three stories high, and they say it was traveling 300 miles an hour, I don't know."
Jai opened the door to get out and immediately heard a loud crash. Then he was flushed into the water and carried away in the strong current.
JaiRam Breisch: "It felt like being in a washing machine with bricks, pool balls, razor blades and glass. I just had to keep telling myself that it wasn't my time to go, and that I was going to make it through it."
Jai says he tried to look back at the bungalow, but he never saw Kali again. He eventually made it to a hospital with a gashed leg and separated shoulder.
Jai thought his family was dead for three days. They eventually found out where he was hospitalized and they were reunited.
The last day they were in Bangkok, Stu and Sally got married in a traditional Thai ceremony. They say they've learned how fragile life is.
Tomorrow the family will be holding a memorial service for Kali at Kingsbury Hall at 3:00. The public is invited; we are told this is a celebration of life.
×
Most recent Utah stories