Estimated read time: 2-3 minutes
This archived news story is available only for your personal, non-commercial use. Information in the story may be outdated or superseded by additional information. Reading or replaying the story in its archived form does not constitute a republication of the story.
Shelley Osterloh ReportingUtah's best amateur figure skater is headed to the US National competition. The 17-year old Salt Lake City girl has a good shot at making the national team, and maybe the Olympic team.
This will be Stephanie Rosenthal's second time competing at nationals in the Senior division, right there with the best American Skaters like Michelle Kwan and Sasha Cohen.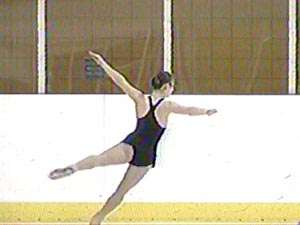 Stephanie Rosenthal, Figure Skater: "These are names I grew up hearing and I looked up to, and I actually flower swept for some of these skaters when they skated in nationals in Salt Lake in 1999."
After a training session at Steiner with Coach Stewart Sturgeon, Stephanie boarded a plane for Portland Oregon. Last year she finished 13th at Nationals, and this year the Rowland Hall Jr. hopes for a top ten finish -- good enough to make the national team and compete internationally.
Stephanie Rosenthal, Figure Skater: "This year I have my triples that I have down really nice. And I've also learned the triple lutz, which is the most difficult triple you'll see at nationals."
In addition to jumps, Stephanie is a very artistic skater, just what judges will be looking for when they develop next year's team which will compete with a new set of judging standards. Stephanie's routine reflects the new judging system that emphasizes complexity technique and proper position.
Stewart Sturgeon, Stephanie's Coach: "They are trying to get back putting more emphasis on foot work, foot work that goes both ways, interesting spirals. Of course a little more creativity, the overall package connecting steps is a big thing. So it not just skate from one end to the other for triples."
Stephanie seems to have a routine that puts it all together with her unique style. The trick is always putting it all together for the judges.
Stephanie Rosenthal, Figure Skater: "So I'm hoping to go and make a great showing, and that's all I can do."
She competes at the US Nationals Thursday and Saturday. Only the top 20 women skaters in the US qualify for Nationals, so Stephanie is in good company, and there is a chance she could even land a spot on the 2006 Olympic Team.
×
Most recent Utah stories