Estimated read time: 3-4 minutes
This archived news story is available only for your personal, non-commercial use. Information in the story may be outdated or superseded by additional information. Reading or replaying the story in its archived form does not constitute a republication of the story.
Sam Penrod and John Hollenhorst ReportingIn Utah's Dixie a new problem has surfaced tonight. Among the developments tonight, a large-scale evacuation in a neighborhood of St. George. But there are so many facets to this drama, it's hard to sum it up.
Residents of the tiny town of Motoqua were rescued by helicopter. Emergency supplies were flown into Gunlock. Construction workers cutoff by the flood had to be rescued. And tragically, at least a half dozen homes were swallowed up by floodwaters.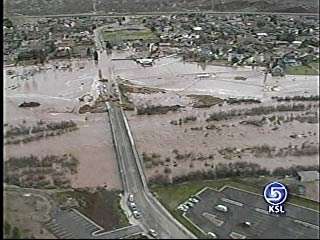 Traffic volunteers turned motorists back from this St. George neighborhood. Many residents were forced to find somewhere else to sleep.
Michael Roundy, Traffic Volunteer: "The gas lines have been ripped open and they're down there holding up the power lines so they don't have a fire."
It's the latest bad twist in a drama that seems to get worse by the hour. In the area near Santa Clara, they used dynamite in an effort to divert the river's raging waters. Two explosions seemed to have little effect.
In the same area earlier, heartbreak as the river carved out a new course and demolished homes. The contractor who built one house had trouble believing it.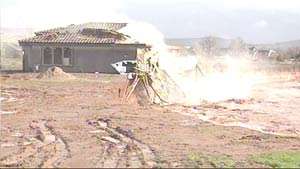 John Chapman, General Contractor: "It's a bummer to see it going apart. Lot of work to get to that point and then lose it all."
The house was built several hundred feet from the Santa Clara River. But the raging water carved a wide curve on a bend. In a matter of hours it ate its way through layers of old silt to the house.
John Chapman: "Gee, wow, there it went. That's a bummer."
At almost the same moment, dozens of Santa Clara residents were causing a traffic jam on a nearby bluff. They watched in astonishment as another house crumbled, with numerous amateur video cameras rolling.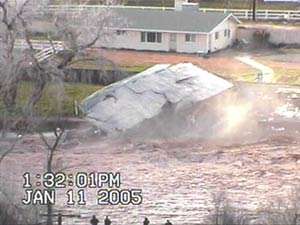 Scott Henigman, Santa Clara: "The whole thing collapsed and fell in the water. Then a car came off the end of that embankment. And then a boat came out of that garage there and went flying down the river. I've been here 12 years and I've never seen anything like this."
The Governor flew in for a personal tour. He met with residents who have had damage, and gave a pep-talk to sandbaggers.
Gov. Huntsman: "You're all volunteering your time and your services during a very difficult time down here. And we appreciate everything you're doing. So let's go to work and do it, all right?"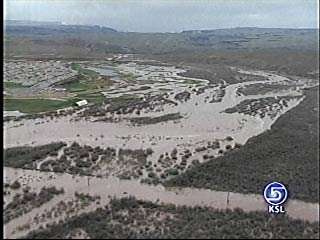 The good news for those sandbaggers is that the river levels are going down. The hope here is that the worst is over, in what seems to be the worst flood ever in this area.
There's more trouble in Washington County than just in the St. George area. Rural areas, farmer's fields, now buried under water. The overnight rain started running into communities, early this morning. And, is just now beginning to let up.
Along the Santa Clara River, near Veyo are mature trees, barely standing and all of their roots exposed from floodwaters, which washed the ground away.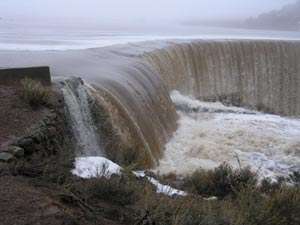 Communities such as Gunlock and Enterprise have suffered for years from a lack of water, but tonight the suffering from flooding is so bad, even the old-timers there say they've never seen anything like it.
Highway 18 has turned into a river of fast moving water. Runoff that is about half a mile wide just keeps moving. The local café at the crossroads of the highway is sandbagged in for the long haul.
Along the highway, a torrent of rushing water runs side by side. Authorities are finally forced to shut it down.
In Nearby Enterprise, volunteers work tirelessly to fill sandbags and get them around town to protect nearby homes from a new river that is running right through town.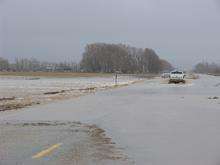 For the 200 or so residents in the town of Gunlock they are stranded. There are only two ways in and out of town, and now both of them are completely washed out.
And after another day of rain, residents are worried, wondering when it's going to stop.
×
Most recent Utah stories