Estimated read time: 2-3 minutes
This archived news story is available only for your personal, non-commercial use. Information in the story may be outdated or superseded by additional information. Reading or replaying the story in its archived form does not constitute a republication of the story.
John Hollenhorst ReportingThere was a memorial service and burial in Coalville today for six people, identity unknown. They were re-buried after being accidentally dug up, giving Coalville a chance to solidify its links to the past.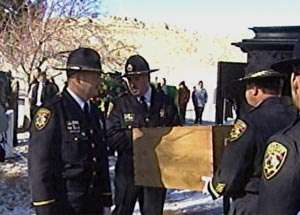 It was undoubtedly a more elaborate ceremony than the deceased were given the first time they were buried more than a century ago. A restored hearse dating to the 1800's took the six unidentified bodies to the Coalville cemetery. Dozens of middle school students marched behind to honor the dead, whoever they are.
Chandler Adkins, South Summit Middle School: "We should cherish the people who were once here and made this town for us."
A construction crew unearthed the bodies last month while excavating for a new middle school. That's why middle school students were invited to a memorial service before the reburial.
The bones were in decaying coffins with clues pointing to the 1800's. But no one really knows if they ever lived in Coalville.
Jon Baxter, Archaeologist: "They could have been pioneers passing through. We don't know. Someone may have been carrying their dead, stopped here, placed their dead, and moved on to Salt Lake City."
Whether they're ancestors of current residents or not, most people here seem to believe the deceased are part of the town's history and entitled to a place on the hill. Students in a shop class created six wooden boxes to hold the remains of an elderly man, a young woman, an adolescent girl, two toddlers and an infant.
Mark Walker, Coalville: "These pioneers that will be buried here today represent all of the pioneers who sacrificed and came across the plains and built a better life for us today."
So, they go back to the grave anonymously, but with thanks from a grateful town they may never have heard of.
Experts are virtually certain the six people were not Native Americans. That's because of their physical characteristics and because they were originally buried in coffins.
×
Most recent Utah stories