Estimated read time: 2-3 minutes
This archived news story is available only for your personal, non-commercial use. Information in the story may be outdated or superseded by additional information. Reading or replaying the story in its archived form does not constitute a republication of the story.
Jed Boal ReportingNearly 150 airmen from Hill Air Force Base touched down on Utah soil this evening after a four month deployment in Iraq.
These maintenance professionals from the 388th Fighter Wing help the pilots gear up and keep the jets in the air. Even these support jobs are hazardous duty in Iraq these days, so their families are glad it's over.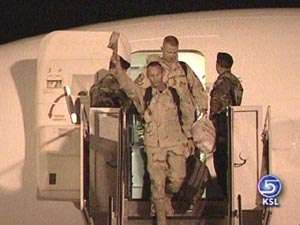 After a long day with many delays, the plane finally pulled in. The airmen say they kept their minds on the mission to get the job done. Krista McLane and Jessica Minear had a nerve-wracking four months.
Krista McLane, Airman's Wife: "It kinda got easy towards the middle, then towards the end, every day was just waiting."
They watched tension grow in Iraq.
Staff Sgt. Douglas McLane/388th Fighter Wing: "Not knowing what was gonna happen the next day. Insurgents, getting ready for the elections over there, you didn't know what could possibly happen over there."
When you've waited as long as Jessica Minear, even those last few seconds can seem like a heart-wrenching eternity.
Sgt. Roy Minear/388th Fighter Wing: "It was very difficult being away from family. This is the first appointment I've actually been away from my wife. It's been trying."
Jessica Minear, Airman's Wife: "The first month he left, I watched the news every night. I cried, I couldn't eat, it made it harder. You wonder, is he going to be okay?"
Now they don't have to wonder.
Staff Sgt. Douglas McLane/388th Fighter Wing: "We had to take care of business over there. With the family being home, you had to stay focused the whole time. That's the way it was."
Now it's time for late Christmas celebrations, birthdays, and anniversaries. Right as these troops were coming home 17 others were leaving Hill, bound for Iraq so the rotations continue.
×
Most recent Utah stories