Estimated read time: 4-5 minutes
This archived news story is available only for your personal, non-commercial use. Information in the story may be outdated or superseded by additional information. Reading or replaying the story in its archived form does not constitute a republication of the story.
SALT LAKE CITY (KSL News/AP) -- Search teams digging through tons of snow found the body Sunday of one of the five people believed buried by a powerful avalanche in an area that skiers had been warned to avoid.
The victim was identified as Shane Maixner, 27, of Sandpoint, Idaho. His body was found under 4 feet of snow after trained dogs alerted the teams searching the area of Friday's slide, Summit County Sheriff Dave Edmunds said at a news conference.
"If anybody could have survived, it would have been Shane," his father, Joel Maixner, said from his North Dakota home. "He was in excellent condition. But the sheriff told me his head and chest were slammed into a tree. He died without a fight."
Shane Maixner came to Utah with some friends to snowboard. His father says he's sure Shane saw the warning signs heading into the backcountry, but he liked the adventure of being on his own in fresh powder.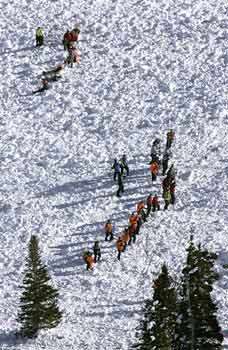 "Shane passed his friend. Somebody from behind shouted 'avalanche' and his friend took a quick left and got out of the way of the snow," Joel Maixner said.
That friend turned around to see Shane, because he didn't think he'd heard the warning.
"He looked and saw Shane trying to outrun the snow at that point," Joel continues," and the snow covered him."
After two days, search and rescue crews found Shane's body packed four feet under the avalanche. Those searchers had one goal in mind.
"An urgency to find closure for the family," said Richard Schroeder of Weber County Search & Rescue. "Knowing that if it was my own children, I'd like them found and do everything I can."
Searchers also found Maixner's snowboard, goggles and helmet.
By later Sunday, searchers had recovered gloves and a sweatshirt that did not belong to Maixner, which suggests more victims are buried-- a thought no one wants to be true.
"It's my hope and prayer," Edmunds said, "that there are no more bodies up there. I hope this is the only one we pull out of there. And certainly our condolences go out to the family that's been affected by this."
"We have found the individual we absolutely, categorically knew was in that debris field," Edmunds said. "Hopefully, there won't be any more."
Several eyewitnesses claimed they saw numerous people buried in the avalanche near Park City, about 20 miles east of Salt Lake City.
"The numbers are conflicting, but a number of eyewitnesses say there were multiple victims," Edmunds said.
One such adamant eyewitness was taken to a hill above the debris field by police Sunday to show searchers exactly where to concentrate their 30-foot long probes for possible victims.
Police have removed about 40 names from a potential victim's list. Edmunds asked any out-of-state vacationers to contact their families to let them know they are safe. "We want to clear names," he said.
There were no local people on that list.
Edmunds said they would not stop looking until they recover the body of anyone they suspect is up there. But he would call off the search "if we feel like the trail has gone cold, and we have taxed our resources."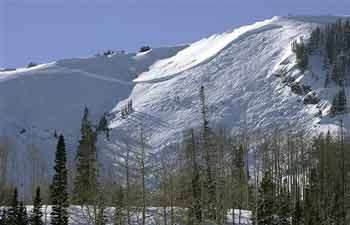 A friend told a 911 dispatcher that he saw Maixner being caught by the cascading mass of snow, Edmunds said. "That's why all along we've said he's up there," Edmunds said.
Shane Maixner graduated in December from University of Montana with a pre-med degree. He had just moved to Sandpoint, Idaho, to live with his sister and was looking for a job in Utah as a physician assistant, his father said.
The amount of snow carried down the mountain by Friday's slide -- up to 30 feet deep at some points -- meant authorities had to tally potential victims by matching eyewitness descriptions of the avalanche to a list of skiers thought to be in the area at the time.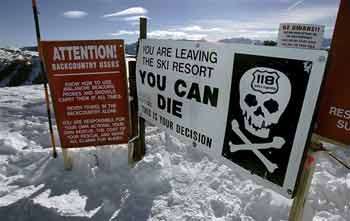 More than 150 rescue workers and 20 dogs had resumed the search at sunrise Sunday in an out-of-bounds area near The Canyons resort that had been marked with skull and crossbones warning signs because of the avalanche danger. An all-day search on Saturday had turned up no trace of the missing people.
If Sunday's sweep failed to find any additional bodies, authorities hoped to begin using ground-penetrating radar on Monday. If that is not possible, machines to take away layers of snow might be used, Edmunds said.
The Wasatch mountain range has had two weeks of wet, heavy snow that created an extreme risk of avalanches, especially in the backcountry.
Six people have already been killed in Utah avalanches this winter and it's still relatively early in the season. That is the highest toll since the state started keeping records of avalanche deaths in 1951.
(Copyright 2005 by The Associated Press. All Rights Reserved.)
×
Most recent Utah stories