Estimated read time: 2-3 minutes
This archived news story is available only for your personal, non-commercial use. Information in the story may be outdated or superseded by additional information. Reading or replaying the story in its archived form does not constitute a republication of the story.
Sandra Yi ReportingKortney Davis: "I got out of the top bunk, and I just collapsed."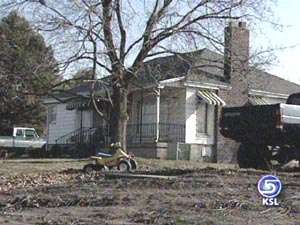 Carbon monoxide poisoning threatened a family overnight. Police say levels were so high, they're lucky to be alive. The family started feeling sick after going to bed.
Alexis Nay: "I just kept hurting and I was sitting there crying and crying, because I had cramps. My stomach was hurting. I had a headache."
Everyone in her uncle's home had similar symptoms. But no one knew what was wrong.
Kortney Davis, Victim: "It felt like I was going to throw up. My stomach hurt any my head hurt bad."
Alexis Nay: "I had to use the bathroom, so I got up and I just got up and just collapsed."
They tried to sleep, but finally, at 2:30 this morning, their uncle stumbled next door and asked his mother to call for help.
911 Tape: "Get outside, Paul. You have to get outside. Where's the baby?"
In the 9-1-1 call you can hear her trying to get everyone outside. Police say that was crucial because carbon monoxide levels were dangerously high.
Lt. Doug Edwards, Orem Police Dept.: "Had this man not awakened and been able to get out and get help, I believe that we would have six dead people in that home."
Blood tests revealed the victims -- including four kids ages 2 to 10 -- had carbon monoxide readings of 30 or more.
Lt. Doug Edwards: "To give you a measure of what that means, a smoker will have carbon monoxide levels of two in their blood. These people had 30 to 40. You get up around 50 and you're dead."
For Kortney and her cousin it was a scary experience, but one they're grateful they can tell.
Kortney Davis: "I'm feeling much better, with lots of energy."
Authorities say the cause was a closed damper on the fireplace while it was still burning. The scary thing is, you can't see, taste or smell carbon monoxide, so a detector would have helped, in this case.
×
Most recent Utah stories