Estimated read time: 2-3 minutes
This archived news story is available only for your personal, non-commercial use. Information in the story may be outdated or superseded by additional information. Reading or replaying the story in its archived form does not constitute a republication of the story.
Jed Boal ReportingAir quality keeps sinking in Northern Utah valleys as this inversion lingers. The Cache Valley usually suffers most under these conditions, but local leaders have a plan to meffle the smog.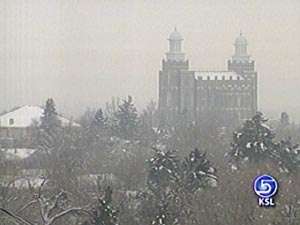 People who live in the Cache Valley consider it one of the prettiest places in the state. When they wake up and see smog outside for days in a row, it bothers them. So local leaders have gone on the offensive.
Megan Miller, Logan Resident: "It bothers my lungs. I've noticed it quite a bit."
Last year, the filthy air set pollution records.
Bergen Carlsen, Logan Resident: "I just try to live with it. It's pretty ugly."
Since everyone in the valley has to live in it, a task force studied the persistent winter pollution and concluded everyone could do more.
Grant Koford, Bear River Health Department: "I definitely thing our air quality last year caught everyone's attention, it's on everyone's mind."
We can all help cut pollution by driving less. Cache Valley has come up with a program and hopes to cut driving in half.
The Bear River Health Department wants to get away from the Red Burn Day rating and simply call it a Red Air Day.
Grant Koford, Bear River Health Department: "A yellow day is a precautionary thing. The days following will be red days."
Some people are paying attention.
Bergen Carlsen, Logan Resident: "I actually thought about it today when I was waiting for parking. I turned off my car."
The state Division of Air Quality says the valley is doing more than required.
Rick Sprott, Utah Division of Air Quality: "Currently, the valley doesn't have any violations. They're taking action before there are any violations."
The shape of the valley and the snow cover intensify the inversion in Cache County, but, many in the community are determined to cut pollution where they can.
Grant Koford, Bear River Health Department: "Folks are talking about it and what effects it has on them."
Unfortunately there doesn't appear to be any clearing potential for five or six days.
×
Most recent Utah stories