Estimated read time: 1-2 minutes
This archived news story is available only for your personal, non-commercial use. Information in the story may be outdated or superseded by additional information. Reading or replaying the story in its archived form does not constitute a republication of the story.
Sammy Linebaugh reportingSome tense moments in Davis County as fire crews and employees work to douse the flames of a raging fire. As the smoke clears, crews begin to look over the damage caused by a refinery fire in Woods Cross.
Last night, flames at the refinery were spectacular, but also a little scary. Anyone who lives around here knows how high the flames are usually burning at the top of the Silver Eagle Refinery stack. But last night wasn't the usual.
Some callers to the fire department say the flames were shooting 200 feet into the air.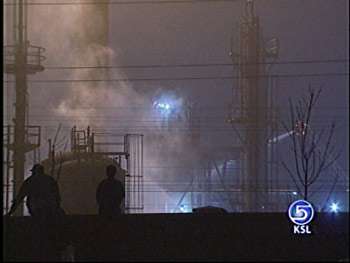 Fortunately, workers were able to shut off the fuel going to the stack. From there, it was just letting the excess fuel burn itself out, and firefighters spraying the stack with water to keep it cool.
It looks like a furnace tube ruptured, causing the fire, something that isn't supposed to happen.
Kerry Carroll/ Silver Eagle Refinery: "No, it's not really that common. It's high pressure steel tubes made to handle that kind of temperature and everything." "Right now, it's all down and de-pressurized. It's just sitting down cooling right now."
The good news, nobody was injured. Inspectors will take a closer look at the damage later this morning to see if normal operations at the refinery can resume.
×
Most recent Utah stories