Estimated read time: 1-2 minutes
This archived news story is available only for your personal, non-commercial use. Information in the story may be outdated or superseded by additional information. Reading or replaying the story in its archived form does not constitute a republication of the story.
WEST VALLEY CITY, Utah (AP/KSL News) -- A man searching through a large trash bin behind a strip mall found a woman's body inside a large plastic bag.
"He said he felt what felt like a body, opened it, and yep," said Capt. Steve Sandquist. "He got out pretty quick."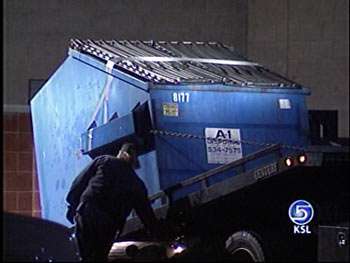 Police have not identified the body, which was discovered intact inside the garbage bag about 11:30 p.m. Monday. However, Sandquist described the body as that of an adult female with dark hair and tattoos.
Police were checking missing person reports and planned to run her fingerprints. An autopsy was performed Tuesday.
Capt. Steve Sandquist, West Valley City Police Dept.: "We do have tattoos and she has been fingerprinted and we're going to be running through the missing persons database and checking the tattoos for any possible link."
The trash bin was confiscated, and police planned to go through its contents Tuesday.
Even though this particular bin was shared by several stores, "there wasn't a whole lot of trash in there, which was fortunate for us," Sandquist said.
Police were checking to see if any had exterior video surveillance, but Sandquist said that was doubtful.
"Most have surveillance inside," he said. "If there is some exterior surveillance, we'd like to see it."
(Copyright 2005 by The Associated Press. All Rights Reserved.)
×
Most recent Utah stories