Estimated read time: 2-3 minutes
This archived news story is available only for your personal, non-commercial use. Information in the story may be outdated or superseded by additional information. Reading or replaying the story in its archived form does not constitute a republication of the story.
Sam Penrod reportingThe Christmas lights at Salem pond: Hundreds of people enjoyed them this past holiday season.
Little did they know, a body believed to be that of a Payson woman was in a car on the bottom
No one knew until today, when the pond was drained,exposing the woman's car.
But while the discovery apparently ends the search for a missing woman, the investigation as to how she got there is just getting under way.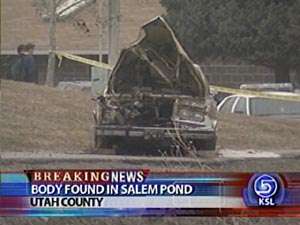 This appears to be a sad conclusion in the search for a missing Payson woman. There is still no positive identification on the victim, but it is believed to be 46 year old Ellen Kay.
Whether it was an accident, a medical problem or foul play, police are going to great lengths to find an answer to what happened at Salem Pond.
As work crews began draining Salem Pond today for a construction project, they noticed what turned out to be this car submerged in what had been about 15 feet of water. Police were called and they discovered a woman's body inside.
Brandon Warenski, Resident: "It's kind of strange in a small town like this, all of a sudden this car pops out of nowhere out of the pond "
It is the same car that Ellen Kay of Payson borrowed from her mother for a doctor's appointment on November 11th. She never made it to the appointment and hadn't been seen since.
Chief Brad James, Salem Police Dept.: "It's my understanding that the person who was missing in this car did suffer from some depression."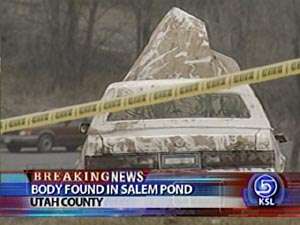 Detectives and forensic teams are gathering evidence from the car and the pond, until they can rule out foul play.
"Lt. Bill Wright, Payson Police Dept.: "Nothing that we can see at this time appears suspicious, but we aren't ruling anything out, obviously, we've got the state crime lab and forensics team going through everything, we treat this as a crime scene, until we know different."
Over the last two and a half months, Kay's family has put out missing posters, hoping for some answers. Her husband Mike spoke to us about her disappearance in December.
Mike Kay, Husband of Missing Woman, December 10, 2004: "All the ideas we've had as a family has been checked out every which way we could and there is just nothing to follow, there is no paper trail or money trail or anything."
An autopsy on the victim is underway, but it could be a day or two until authorities have a positive ID. It could take a few weeks before they can determine a cause of death and exactly what happened.
×
Most recent Utah stories