Estimated read time: 2-3 minutes
This archived news story is available only for your personal, non-commercial use. Information in the story may be outdated or superseded by additional information. Reading or replaying the story in its archived form does not constitute a republication of the story.
Tonya Papanikolas ReportingThe family of a West Valley marine is mourning his loss after learning he died in a helicopter crash in Iraq.
The crash happened yesterday during a sandstorm, killing 31 people including 24-year-old Matthew Reed Smith. Smith was on his way to secure areas for the upcoming Iraqi elections.
The family says they all heard about the helicopter crash yesterday. For some reason, it didn't sit well with them. The mother says it was almost like Matthew was preparing them for the news they never wanted to hear.
A candle burns at Colleen Parkin's home in honor of her son, Corporal Matthew Reed Smith. A flag is flown at half-staff outside and a life-size cutout reminds the family Matthew is with them in spirit.
Colleen Parkin, Son Died in Iraq: "It's still not reality that he's gone, but in our hearts, Matthew will always be here."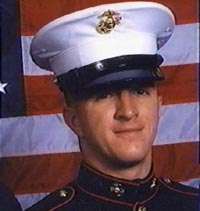 The family learned yesterday that Matthew died in a helicopter crash in Iraq. He'd only been in the country a few months, spending most of that time in Fallujah, trying to retake the city from insurgents.
Gary R. Smith , Son Died in Iraq: "It's funny that he should be in harm's way and be dodging bullets and make it out okay, and then on a transport helicopter heading to another area lose his life."
The helicopter crashed during a sandstorm. But his family says they're not bitter.
Colleen Parkin, Mother: "Matt always wanted, ever since he was a little boy, to be a soldier. He picked the marines because they were the toughest of all. I'm not angry because that's what Matt wanted. Matt just wanted to be there, he wanted to protect us."
His family says Matthew loved life and talked about coming home to Utah.
Spencer Smith, Matthew's Brother: "All the stuff that we get to do, he wanted to do – start a family and be with his family."
And while the tears continue to flow, the family says they're very proud of their son and brother.
Spencer: "He would just do anything for anybody."
Gary Smith: "We feel very strong about what he was doing. We supported him and loved him. And very, very proud of him, and he's a hero."
Matthew had been in the Marines for about four years. He'd been able to call both of his parents this Monday. His dad's last words to his son were, "I love you and I want you to know I'm proud of you."
×
Most recent Utah stories