Estimated read time: 2-3 minutes
This archived news story is available only for your personal, non-commercial use. Information in the story may be outdated or superseded by additional information. Reading or replaying the story in its archived form does not constitute a republication of the story.
Richard Piatt ReportingHealth Care providers are on the defensive at Utah's Capitol this week. Lawmakers are once again facing pressure to pass the so-called 'any willing provider' health insurance bill. The people promoting this bill say it's all about patient choice---choosing your own doctor. But the health insurance industry says the bill is a recipe for even higher health care costs.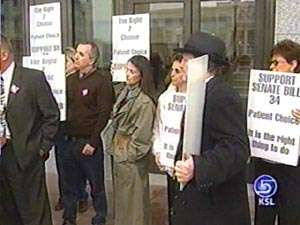 The people holding signs today each have a story: A pregnant woman who was forced to change doctors; a man whose health was actually put in danger by bureaucracy. They say Senate Bill 34 will help fix all that.
Debbie Don, In Favor of SB 34: "This is really a patient choice issue."
Pro and con, the hearing room was packed with people with strong feelings about 'Patient Access Reform'. The bill would allow people to choose any doctor they want, instead of choosing from a list. It would set a reimbursement rate for providers, but allows them to set their own co-pays.
Health insurers are dead-set against the bill. They say patients would trade choice for much higher overall costs, partly because the plan wouldn't be able to negotiate for lower costs.
Kelly Atkinson, Utah Health Insurance Association: "There's no doubt that costs will go up. And there's enough empirical data on this issue to demonstrate that will happen."
There is also a concern that eventually those high costs could lead employers to eliminate health care benefits.
Karen Crompton Voice For Utah Children: "Some people don't have any choice. If you're uninsured, choice doesn't mean very much."
But the bill has considerable support at the Capitol, passing to the full Senate with a 6-to-3 vote. Most feel this is a way to improve health care quality in Utah.
Steve DeVore, In Favor Of SB 34: "The doctors cannot see the patients and the patients can't see the doctors. Ultimately it results in bad medicine."
The wild card in this debate is how much it will cost. The figures weren't available today and could affect a final vote when they do arrive.
×
Most recent Utah stories