Estimated read time: 2-3 minutes
This archived news story is available only for your personal, non-commercial use. Information in the story may be outdated or superseded by additional information. Reading or replaying the story in its archived form does not constitute a republication of the story.
John Daley ReportingA special visitor is in Utah today hoping to convince lawmakers that now is the time to pass a law which increases the penalties for crimes motivated by hate. Her name is Louvon Harris; she's the sister of James Byrd, the man killed in a racially-motivated murder.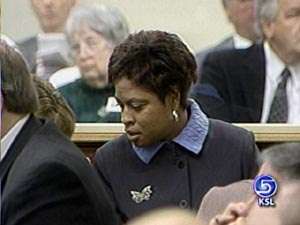 That case eventually led Texas to pass a tougher hate crimes bill; she's hoping to convince Utah lawmakers to do the same. Louvon Harris has endured more pain than most and hopes to spare others a similar fate. To that end she wants people to take seriously crimes motivated by hate.
Louvon Harris, Sister of James Byrd: "James Byrd Junior was killed not because of his name. He was killed because he was black. And they took the liberty to intentionally drag him another three miles to put him in front of a black cemetery to send the message this is what we think of black America."
The murder of James Byrd was called the most heinous hate crime in decades--three white men were convicted of chaining him to the back of a pickup and dragging him miles to his death. Today Harris visits with lawmakers in both houses, and the governor--who says he's is open to new hate crimes legislation--though lawmakers in the GOP-controlled legislature are still considering it.
John Valentine, (R) Senate President: "Having her here brings a focus on the issue. The specifics of the bill will still govern however, whether the bill passes."
Sen. Parley Hellewell, (R) Orem: "Black people kill white people. Black people kill black people. White people kill black people. Is it a hate crime when they kill a black person and not when they kill a white person? You know, now you're trying to start figuring out what's in somebody's mind when they committed the crime and I'm not sure you can do that."
In past years hate crimes laws have stalled on the inclusion of sexual orientation. Harris overcame that same concern in Texas, where lawmakers eventually passed the tougher law. And she notes the beating death of gay Wyoming student Mathew Shepard as an example of a crime that deserves a more severe penalty.
Louvon Harris, Sister of James Byrd: "We're all Americans. No one deserves to die because of hate."
Hate crimes legislation has failed for the past several years, but this year Utah has a new governor and new leadership in both the House and the Senate. Advocates hope this year they will finally get this through.
×
Most recent Utah stories