Estimated read time: 2-3 minutes
This archived news story is available only for your personal, non-commercial use. Information in the story may be outdated or superseded by additional information. Reading or replaying the story in its archived form does not constitute a republication of the story.
Jed Boal ReportingTom Griffiths, Marine's Father: "He's a good boy, a good American, and he'll stand up for this country."
A Salt Lake family is struggling to cope with the casualties of the war in Iraq. Their son is on his way home – alive but seriously injured.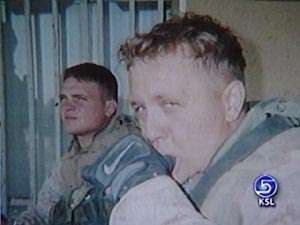 Lance Corporal Robin Griffiths was wounded last week when insurgents launched mortars at their base south of Baghdad. One Marine was killed in that attack and three more were also wounded.
His family is proud of Lance Corporal Griffiths. They're also sad and anxious about his wounds. They're glad he's coming home, but they're also devastated about the Marines and soldiers who are not.
The Griffiths family flies the American flag, the Marine Corps Banner and a yellow ribbon. Lance Corporal Robin Griffiths joined the Marines with a friend after 9-11, right out of high school.
Tom Griffiths, Marine's Father: "I recall them sitting here at my kitchen table watching the twin towers fall. They made the comment, somebody has to do something about that."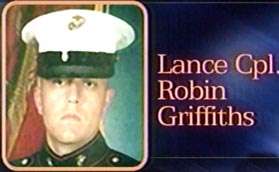 Right now Griffiths is flying to a burn hospital in Texas after multiple wounded from mortar fire in Iraq. Last Thursday the 24th Special Operations Unit returned to camp near Baghdad after a security operation. They took off their bullet-proof gear and packed to come home this week. Two rockets hit the tent; one marine died, Griffiths and three others were injured.
Griffiths has burns on 25-percent of his body and shrapnel wounds on his chest and face. He has a fractured femur and the artery in his leg was severed. Doctors hope to save his leg.
Tom Griffiths: "A lot of pain involved there, he wouldn't be able to talk to us. They told us he may not even recognize us when we get to his bedside."
The Marine Corps is flying the family to Texas. Griffiths was supposed to come home January 2nd, but his orders were extended for election security. He's been married a year and a half and has a newborn.
Tom Griffiths: "He has a little baby boy named Chase, and he's never seen him."
Wife and son are on the way to Texas from Camp Lejeune, North Carolina.
Tom Griffiths, Marine's Son: "It's very difficult when your son's in harm's way. But our son's coming home, and some boys aren't."
The Marine's condition was upgraded from critical to serious after several operations in Germany. The family is optimistic, but knows they all face a long recovery.
×
Most recent Utah stories