Estimated read time: 2-3 minutes
This archived news story is available only for your personal, non-commercial use. Information in the story may be outdated or superseded by additional information. Reading or replaying the story in its archived form does not constitute a republication of the story.
Tonya Papanikolas Reporting"Nancy Workman, Former Salt Lake County Mayor: I'm excited. I think I have good attorneys, we're gonna be fine."
Former Salt Lake County Mayor Nancy Workman is confident as her case goes to trial. The first order of business it to winnow a pool of 60 prospective jurors down to jury of eight and two alternates.
Workman faces two felony counts of misuse of public money. She's accused of using taxpayer money to hire two bookkeepers to work under her daughter's direction at the Murray Boys and Girls Club.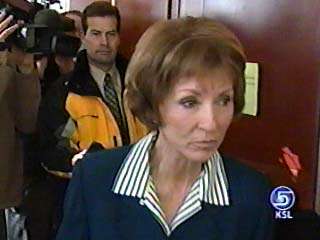 It was a long day for the jurors today. All the potential jurors who came in had filled out a ten page questionnaire, so lawyers already knew a lot about them, but individually they were brought into a special room and the judge and lawyers talked to them, to learn more about them. They were able to whittle that number down to 44, from there to 24, then the final ten.
Nancy Workman was present for these interviews. She didn't speak during the interviews; the lawyers were the ones asking the questions. A lot of the people coming in actually told the lawyers that they had already formed an opinion about Workman and her guilt. Many people thought she was guilty. Of course, lawyers are looking somebody who can put aside that bias. But Workman did tell a Deseret Morning News reporter today that she respected those people for their honesty and would rather have them tell their opinions now than try to sabotage her during the trial.
Earlier today this is what Workman and her lawyer had to say.
"Nancy Workman, Former Salt Lake County Mayor: I'm excited. I think I have good attorneys, we're gonna be fine. I think we're headed for a trial."
Greg Skordas, Workman's Defense Attorney: "I don't think it's as important that we don't find jurors that don't know anything about the case, because certainly almost everyone does have some knowledge of the case. But what we need are jurors that can put their judgments aside, put what information they've heard in the media aside."
Today those are probably the last words that you're going to hear from Workman or her attorney for a while. The judge ordered a gag order all the way through the trial. The trial will start Wednesday at 2:00; we will hear opening statements and possibly witness testimony. They're expecting that the trial will last into next week, possibly Tuesday or Wednesday.
As for the jurors that were chosen, it's five men and three women.
×
Most recent Utah stories