Estimated read time: 2-3 minutes
This archived news story is available only for your personal, non-commercial use. Information in the story may be outdated or superseded by additional information. Reading or replaying the story in its archived form does not constitute a republication of the story.
Tonya Papanikolas reporting It's day three of the trial of former Salt Lake County mayor Nancy Workman.
She's charged with two counts of misusing public funds for hiring two bookkeepers to work under her daughter's direction at the Murray Boys and Girls Club.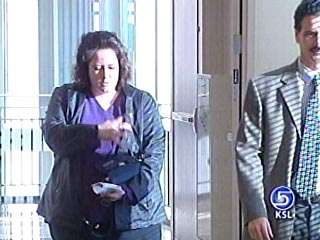 Two more state witnesses took the stand today. The first was Jennifer Schroder: She is the second employee who received county funds for her accounting position at the County's Boys and Girls Club.
She said that when she was hired, her supervisor, Aisza Wilde, daughter of Nancy Workman, told here that she would be paid partially by the county, and partially by the club. She says she was not told that she would have to do health work, and didn't recall the former mayor giving her any jobs to do.
When the defense questioned her, she also said anyone looking at her resume would have been able to see her accounting background, and if the county had asked about it, she would have told them. She also said that nobody ever asked her to hide from the county that she was working for the Boys and Girls Club.
The second witness called today was Robert Dunn, Asia Wilde's boss. He said he questioned Wilde about the arrangement at the very beginning, and she said to him that the Boys and Girls Club employee would have to do county work. He asked if it was legal, and Wilde replied that they do it all the time, meaning that they loan employees out all the time.
Dunn said on the stand that it was a big mistake never to have signed a contract for the employee. But he also said that hiring the accountant did not directly benefit Wilde, because she took on additional duties after the hiring. He said it didn't seem unusual to him that the county would be donating an employee to the club.
The state may have three more witnesses to call before the defense can begin calling their witnesses.
×
Most recent Utah stories