Estimated read time: 2-3 minutes
This archived news story is available only for your personal, non-commercial use. Information in the story may be outdated or superseded by additional information. Reading or replaying the story in its archived form does not constitute a republication of the story.
Ed Yeates ReportingWithout warning another cell phone has caught fire, this time in the coat pocket of a police and fire dispatcher in Ogden. The battery in the phone started smoking and melting while she was working at her dispatch desk.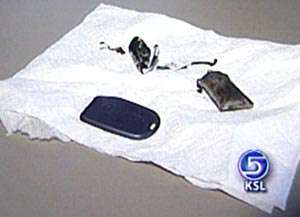 If it gets too cold outside, just pick up your cell phone. It may be one of those that puts out enough heat to start a fire. Kris Munford's Motorola cell phone was just sitting in the pocket of her jacket as she began her shift at the Weber County Consolidated Dispatch Center in Ogden.
Kris Munford, Dispatcher, Police-Fire Dispatcher: "We had just started our shift and we were just plugging into the phone jack, the radio jack right here. I smelled something and I looked down and I could see smoke coming from my jacket. I thought it was my headset, so I hurried and unplugged my headset and took it off and looked down and there was still smoke coming. So I stood up."
By the time Kris stood up, the phone had burned a hole through her jacket. It fell to the floor and exploded like a gun going off, shooting a piece of plastic across the dispatch room.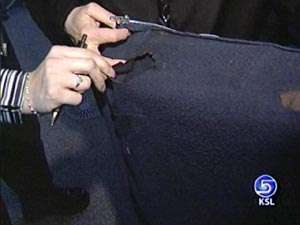 Kris Munford: "I think I was more in shock. I hadn't really realized, there was no indication before that my cell phone was hot that anything was happening. It was just the smell and then the smoke and within probably ten or fifteen seconds it had exploded."
Kris is not alone. The Consumer Product Safety Commission has had more than 80 reports of such battery fires - including several injuries. Since last year, CPSC, Kyocera Wireless Cooperation has recalled thousands of the batteries manufactured by Coslight International of Hong Kong. Apparently, some of the defective batteries are still on the marketplace.
What really frightened Kris is that she was filling her car with gas just before work, with the cell phone in her pocket.
Again, it's not the cell phones themselves, but the batteries that are raising the concerns. For more information, model numbers, and battery names visit the links at the top of this story.
×
Most recent Utah stories