Estimated read time: 3-4 minutes
This archived news story is available only for your personal, non-commercial use. Information in the story may be outdated or superseded by additional information. Reading or replaying the story in its archived form does not constitute a republication of the story.
Carole Mikita ReportingSay the words 'classical music' and most people have an image of the sound and look of those who perform it. This is the story of a family of musicians who defy every label that goes with concert pianist.
They are simply called 'The 5 Browns,' siblings from Alpine, Utah. All of them have or are studying at the renowned Juilliard School of Music in New York City, and they have become the hottest new recording artists.
With fingers fairly flying over the keys and glances that anticipate each other's next move, Desiree, Diandra, Gregory, Melody and Ryan, 'The 5 Browns', are quite simply an American phenomenon. Each one is a gifted musician; now, as a quintet of brothers and sisters, they have caught the music world's gold ring.
A recording contract with BMG Entertainment, parent company of RCA, photo shoots, media interviews, turning heads even in Times Square – the bright, beautiful, gifted and charming, Brown children are a P.R. agent's dream clients.
It started simply. As far back as their memories go there has always been piano. Their mother Lisa was a singer and accompanied herself.
Diandra and Desiree Brown: "We'd reach up and try to hit the keys, try to play with her. So she thought, 'Oh, I'll give them some piano lessons.' But she didn't intend for anything like this to happen."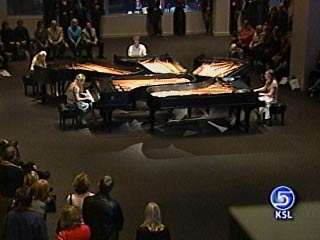 Each child started lessons at age three, never, they say, pushed or prodded by their parents. They simply wanted to.
Gregory Brown: "I was sitting, watching Saturday morning cartoons and they were practicing and I didn't know how to play the piano yet and I was thinking, 'Wow, I'm almost three, that'll be so cool when I can play the piano."
The children practiced six hours a day. Being schooled at home helped that, but can you imagine--88 keys times five-- that's how many grand pianos were in the Brown home.
When it came time for college level study, Keith and Lisa Brown said they'd find out how good their children really were. Diandra and Desiree auditioned for music schools around the country and were accepted to the most prestigious, the Juilliard, in New York City.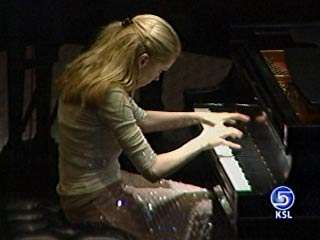 350 applicants every year, 10% are accepted, each playing at professional level already. With the Browns, that is simply multiplied.
Veda Kaplinsky, The Juilliard School: "They way they compliment each other, they way they lift each other up, so that the more of them there are, the more impressive the product."
And what Juilliard gave in instruction, the Browns have given back in positive press. They were featured on Oprah in 2002.
All of this has made them media darlings. 'The New York Times' headline reads Clean-Cut and Classical, five Mormon siblings, missionaries for Bach and Mozart, too. London's 'Sunday Telegraph', 'Billboard' Magazine', 'People' dubbed them the Fab Five.
Ryan Brown: "Not very many kids out there have been exposed to classical music and that's what we're trying to change." And at a convention of booking agents, the people who open doors to concert halls across the country, the Browns turned up the charm and wowed them with their incredible talents.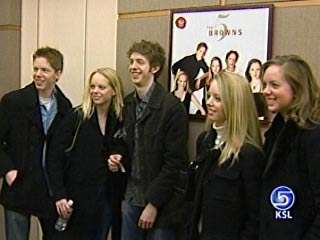 Their CD/DVD will be in stores tomorrow and their first national live performance is on 'The Tonight Show' also tomorrow.
×
Most recent Utah stories