Estimated read time: 2-3 minutes
This archived news story is available only for your personal, non-commercial use. Information in the story may be outdated or superseded by additional information. Reading or replaying the story in its archived form does not constitute a republication of the story.
Sam Penrod ReportingSandy Police are beginning a crackdown on drivers who run red lights. Officers say it is an escalating problem that is putting motorists in danger.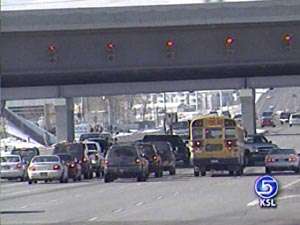 In Sandy alone last year there were 300 wrecks caused simply because of drivers running red lights. So police are cracking down and writing a lot of tickets.
Sandy police officer Troy Rasmussen watches as cars go through a busy intersection. It doesn't take long until an SUV goes through a red light, approximately two seconds after the light changed.
Officer Troy Rasmussen, Sandy Police Dept.: "Were you aware of the red light at the 90th South that you went through."
Running a red light is something that some people rarely do. But when it happens, officers say most drivers don't even realize it.
Troy Rasmussen, Sandy Police: "She said she was passing another car and didn't realize it was red."
But when there are crashes from red lights, Sandy police say they have the statistics to prove it is costly and dangerous. With each red light accident costing on average ten thousand dollars in damage, and times that by 300 red light collisions in Sandy last year, that equals three million dollars.
Sgt. Bill O'Neal, Sandy Police Dept.: "You combine speed with red light, element of surprise. The type of collision that generally occurs is a broadside, and all of those combined together, there is a high likelihood of severe bodily injury and/or death."
Right now a bill before lawmakers at the State Capitol would allow Utah cities to bring back the so-called Photo Cop to target speeders and those who run red lights. The bill is now in the early stages. But in the meantime, drivers in Sandy are warned, officers have a zero tolerance policy.
Sgt. Bill O'Neal: "Our goal is to reduce the number of accidents. We know we won't stop all red light violations, but we definitely want to reduce it."
If you are caught running a red light in Sandy, officers have orders to give no warnings, and the ticket will cost you $92.
×
Most recent Utah stories