Estimated read time: 1-2 minutes
This archived news story is available only for your personal, non-commercial use. Information in the story may be outdated or superseded by additional information. Reading or replaying the story in its archived form does not constitute a republication of the story.
Samantha Hayes Reporting A nineteen-year old is safe tonight after a harrowing experience on Granduer Peak.
It was a beautiful, clear day and David Miller from Salt Lake City thought it would be perfect for a hike. He never expected to run into a mountain lion along the way. Search and rescuers say the young man had a brief encounter with the animal; the mountain lion was about 50 yards away from him.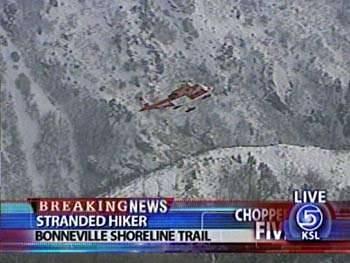 Darren Hunsaker, Salt Lake County Search and Rescue: "That made him extremely nervous so he decided to go down the back side of the cliff. During that process he slipped and banged up a knee a little bit, nothing serious. We belayed him with a rope system just to keep him stable and not aggravate the injury anymore."
About a dozen rescuers were on the scene aiding Miller in very cold conditions and on 30-40 degree inclines. They say their goal was to get in before dark. They say the rescue was not a difficult one, but they knew Miller's condition was scary and uncomfortable and they wanted to get him off the mountain as soon as possible.
Miller was able to call search and rescue crews from his cellphone after injuring himself. And crews say they were not concerned about the mountain lion; by the time they arrived the animal was long gone. Even though this young man is reportedly an experienced hiker, rescuers caution going alone, especially this time of year. Slippery rocks and cold temperatures make it an especially dangerous activity.
×
Most recent Utah stories