Estimated read time: 1-2 minutes
This archived news story is available only for your personal, non-commercial use. Information in the story may be outdated or superseded by additional information. Reading or replaying the story in its archived form does not constitute a republication of the story.
Sam Penrod reportingA dramatic police chase through the Salt Lake Valley Wednesday night.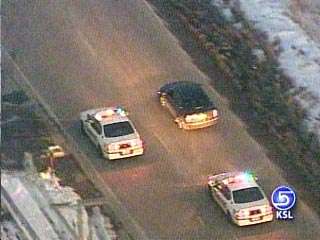 The suspect was on the run, after allegedly car-jacking a couple at gun-point in downtown Salt Lake. For the next hour, he led police on an 'OJ style' low speed chase on I-15.
This was the end of the road for 27 year old Anousak Kaykeo, who police say is a known gang member. With all four of the tires spiked, on the stolen car he was driving, he was arrested at gunpoint.
But for nearly an hour, he led police on a chase through city streets and the freeway.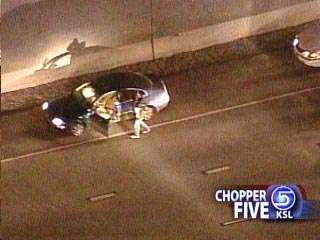 Initially speeds reached up to 80 miles per hour, but after officers spiked two of the car's tires, it was more of a of game of cat and mouse.
The chase started when the driver and two other suspects met a Logan couple downtown to sell them some stereo equipment. Instead, they stole their money and their car.
Det. Dwayne Baird, Salt Lake Police Dept.: "It started out as strong arm robbery, then an armed robbery stolen vehicles an individual with a handgun. "
As the chase progressed on Redwood Road, more officers joined in.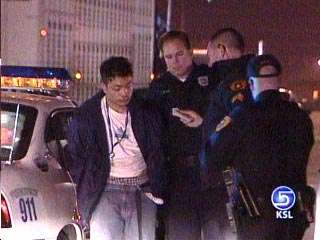 Eventually the suspect got back onto 1-15 and headed south. Highway Patrol troopers spiked the other tires and finally the suspect could not go any farther.
Detectives are still trying to track down the other two suspects in the carjacking who got away by stealing the couple's car. As for the suspect in the chase, he is in jail.
×
Most recent Utah stories