Estimated read time: 2-3 minutes
This archived news story is available only for your personal, non-commercial use. Information in the story may be outdated or superseded by additional information. Reading or replaying the story in its archived form does not constitute a republication of the story.
Amanda Butterfield reporting After 12 weeks of the most intense training at the Marine Corp Recruit Depot, civilians officially become Marines. All week long we've been looking at the process of making a Marine, and today it's graduation day.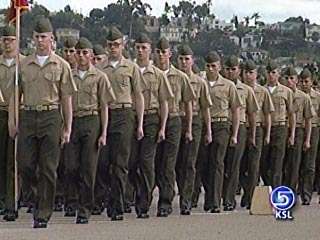 About 90-thousand moms, dads, and friends sit in the graduation stands every year to celebrate their loved ones big day. In the crowd you can always find a proud Utah family -- there to watch as their son becomes a Marine.
In uniform and in unison, these groups of recruits are only hours away from becoming the country's newest Marines.
There are two different ceremonies recruits participate in at the end of their training: First, the Emblem Ceremony, where recruits are pinned with the eagle, globe and anchor: the sign of the Marine Corps. The family is invited to watch.
Amy Galvze, Mother of U.S. Marine: "I can't tell you how proud we are, it's the most exciting thing."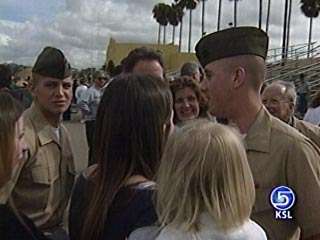 This is the first time in three months Amy and her family have seen their son, Adam. Adam graduated from West High School just last year. His mom can't help but notice a change.
Amy Galvze, Mother of U.S. Marine: "From this 19 year aimless on the road to who knows, to now being so focused."
But Adam didn't join alone, he came with his best friend, Robert Clark.
Adam Galvze, U.S. Marine: "We've played baseball since we were young, went to school, did everything together."
Both agree, it was nice having a buddy around.
Robert Clark, U.S. Marine: "We were really lonely when we first got here and it was nice to have someone who cared and who could get you through everything."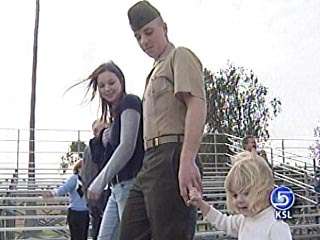 After the Emblem Ceremony: Graduation. This is where recruits take the title of Marines, and all the hard work of the past 12 weeks seems worth it.
Robert Clark, U.S. Marine: "I don't think 95 percent of the world understands what we've been through the last three months."
Adam Galvze, U.S. Marine: "Now we can claim the world's greatest title, United States Marine."
Next, Robert and Adam get a 10 day leave to come home to Utah. Then it's off to where ever they're ordered. It could be Iraq, which makes Adam's mother nervous, but she has faith he's ready.
Amy Galvze: "He's a Marine now, trained, capable, I have a lot of confidence in him, he's a wonderful young man now."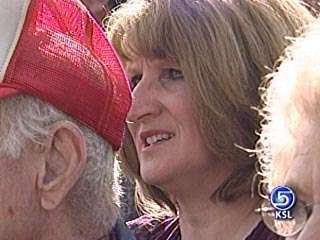 After graduation, new Marines are given 10 days off. Then they report back to the Marine Corp Recruit Depot for more training. From there, each Marine will attend one of three dozen different Military Occupational Specialty Schools to receive further training in their specific job field.
Then it's off to wherever the Marine Corps needs them.
Coming up tomorrow, we'll show you what a group of Utah schoool teachers were doing at the Recruiting Depot. They spent a week in boot camp too... well, sort of.
×
Most recent Utah stories