Estimated read time: 1-2 minutes
This archived news story is available only for your personal, non-commercial use. Information in the story may be outdated or superseded by additional information. Reading or replaying the story in its archived form does not constitute a republication of the story.
Coco Warner ReportingSo how are you spending your Valentine's Day? If you're like many Utahns flowers and candy may be involved. But then there were those serenades with love-songs and really wild stuff.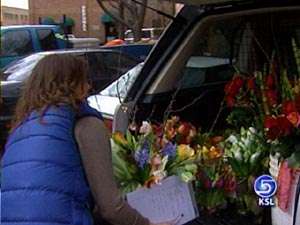 Some spent today in a line, joining the thousands of Utahns who like their Valentine's Day covered in chocolate. And while plenty of people bought flowers and candy, others made today a bit more memorable.
Life is sometimes compared to a Merry-Go-Round, and today 20 couples decided to marry while riding one in a radio station promotion. And if you had already taken the plunge, what did you want this Valentine's Day?
"I'd have three hours of alone time with my husband without the kids. Is that mean?"
"Just something really great wrapped up?"
Flowers are always a pretty safe choice. And at Roots flower shop in Salt Lake City, today was busy. A lot of people stuck with roses, but tulips were also very popular this year.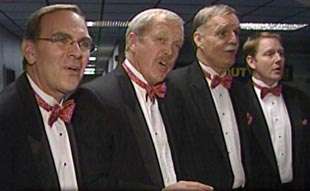 Rachael Howells, Roots Owner: "It's been a pretty successful Valentine's Day, we've been extremely busy. We cut off orders, we kind of keep squeezing them in when we say we're not going to."
What's 25 minutes when there are free samples to sample? There's always room for dessert. But the main attraction was fresh fruit and chocolate.
Samye Cummings, Cummings Studio Chocolate: "It's become a tradition here for people to come get chocolate dipped strawberries, raspberries, and grapes for their sweetheart on Valentine's."
And finally, how about a serenade to send us off. Liberty Senior Center's Musical Makers entertained their audience with love songs this Valentine's Day, proving today is for the young at heart.
×
Most recent Utah stories